Before we learn how to open password protected Excel files, we will go through a little background. The advent of technology has been one which has been exponentially inevitable. The use of computers has superseded everything else, with tasks now being performed at incredible speed and as efficiently as possible. One such key breakthrough is the use of Microsoft Excel, as spreadsheets can now be used to record information in a very organized manner, ranging from health records to school records. These spreadsheets have evolved over time to be used to record even more personal and private information, leading to the use of passwords for these files, thus allowing access to only those with the knowledge of the passwords.
However, with humans being humans, there are cases whereby these passwords get lost, or forgotten, and this prevents us from getting access to the file. This thus begs the question of how to open protected Excel file, and in this article, we will mention the best ways of achieving this.
Method 1. Open Password Protected Excel File Online
In the event that you want to learn how to open password protected Excel file whose passwords has been lost or forgotten, the file in question can be uploaded online where the password will be hacked by sites so as to gain access. This online method on how to open locked Excel file is one which, truth be told is not so popular but has been known to get results. A paid service With an algorithm of password search whereby millions of likely passwords are accessed, this method is one of the key methods.
Limitations:
One of the major such limitation is time. Seeing as in most cases file will have to be crosslinked with millions of possible passwords on the password database, this could take a lot of time and delay users.
Also, this method of how to open protected Excel sheet generally has a 22% success rate, one which can be seen as quite low.
Another limitation is a paid service, variety of packages are offered, with the chances of success increasing per increase in price.
Finally, as an online product, the privacy of your data would always be a concern.
Steps involved to open encrypted Excel file:
Before I show you how to open encrypted Excel files, it is important to know that password recovery online will neither give you the fastest speed nor guarantee a 100% success rate. LostMyPass operates using dictionary and brute force with mask attacks. It's left to you to select the most appropriate one for your situation.
Dictionary attack
LostMyPass features the dictionary attack mode that should be used when the password is a word that is on its dictionary. The dictionary features more than 3 million entries, and although it has a larger database of 20 billion commonly used password for the brute force decryption, the dictionary is sufficient in most applicable cases.
When you submit your Excel file, the service usually begins by browsing the dictionary, and if that fails, it then proceeds to using the larger database.
Brute force with mask
Whether or not the Excel password is a dictionary word, if you are sure of how the password is structed, then you can adjust the search to fit that structure with this mode. When I say "structure," I mean aspects of the password, such as the number of characters, the capitalization of the letters, or even the character that begins or ends the password, etc.
With a mask, the service will tailor the search to that.
One thing you must note about the mask recovery is that you have to be sure of the parameters you enter, else, the service will not be able to open password protected Excel file and the recovery will fail.
Method 2. Open Password Protected Excel File with Passper for Excel
Passper for Excel is one of the most popular tools used to open password protected Excel file without corrupting or accessing the original data of the file. This is a tool that guarantees privacy of the file. This program makes use of state-of-the-art CPU and GPU acceleration technology to ensure that password removal is almost ten times faster than the regular methods, with a very successful decryption rate (as high as 95%). Passper for Excel gives super-fast password removal time rate (1 to five seconds) and a feature to save the level of recovery process at any time. It is also compatible with a wide range of Excel versions.
Free Trial
Features:
10X Faster Recovery Speed, thanks to the Multicore CPU and GPU technology which greatly help to speed up the Excel recovery.
95% Decryption Rate is Guaranteed with our specially constructed algorithm promises.
Remove restrictions on workbook and worksheet all in a single click of a button.
You can also pause the Excel recovery progress at any time. The recovery progress will be saved.
Limitation:
The only likely limitation one can encounter in using Passper for Excel to open password protected Excel file, with the minimum version going as high as $20. This seems to be the only one however, as it has been met with race reviews by users. Aside the amount, this is a good option on how to open protected Excel file.
Step involved:
Step 1. Choose a Recovery Mode
Upon the successful download and installation of the program, proceed to run it. Select the option of "Recover Passwords," and then import the Excel file for decryption. Do that by clicking the "Add" button.
Step 2. Select password attack type
After adding the locked Excel file whose password is to be recovered, you will then select a password recover method. Passper for Excel offers 4 recovery methods in how to open locked Excel file, and these include Combination attack, dictionary attack, mask attack and brute force attack.
A. Combination Attack
This allows the user to recover password by tweaking the character settings and choosing characters he might remember from the original password. This is then run through the system and a match is found.
B. Dictionary Attack
This involves searching through the software's in-built library for your password. You can also import your personal customized library for the software check through with the help of the dictionary attack.
C. Mask Attack
This is particularly useful when you remember semantics from the forgotten password such as character length, character font and so on. Mast attacks allow the user to customize the settings to increase the rate of success.
D. Brute-force Attack
This allows you to run thorough every possible password combination in order to recover the forgotten password. It is a more thorough method, but it takes more time than the other attacks.
Select the most appropriate password attack and click "Next."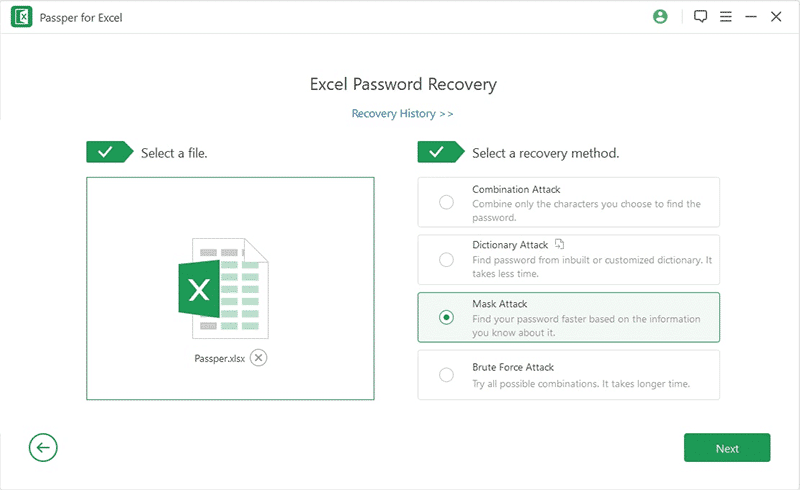 Step 3. Open password protected Excel file
The recovery process then begins, and after a very short time, passwords will then be recovered and password displayed to you. Take note of it or just click "Copy" to copy the recovered password to your clipboard to use in unlocking the Excel file.
Method 3. Open Password Protected Excel File with PassFab for Excel
PassFab for Excel is another powerful tool which can be used to open password protected Excel files. Similar to Passper for Excel, it is equally a straightforward utility that allows for a rapid decryption of encrypted Excel files and gives prompt access. With the capacity to decrypt both .xls and .xlxs Excel files, its flexibility is a key feature you will notice on the first use. Some more features of this Excel password recovery programs are below:
Key Features:
PassFab for Excel allows the user not only to open password protected Excel files, but also modify previously forbidden worksheets.
PassFab for Excel features 3 password attack modes that help you tailor the recovery to your specific needs.
Excel Versions which PassFab can decrypt include: 2019, 2016, 2013, 2010, 2007, 2003, XP, 2000 and 97
It can open protected Excel file of .xls and .xlxs files.
Password recovery with PassFab is lightning fast.
How to use:
Step 1. Launch PassFab for Excel
Install the program and open it. next, select the "Recover Excel Open Password" mode.
Step 2. Import the locked Excel file
Next, drag and drop the encrypted file unto the "Please import Excel file" box or click "Please import Excel file" to import the encrypted document into PassFab for Excel. Once the file is imported, PassFab for Excel will begin to find details about the encryption.
Step 3. Select a password recovery mode
Here is where you tell PassFab for Excel how to open password protected Excel file. This program has three types of password attacks, which are:
1.Brute Force Attack:
Use this password attack mode if you do not have a clue about the Excel password. It will take more time than other methods, of course.
2.Brute Force with Mask:
If you know how long the password is or a few characters, then the brute force with mask attack will save you time. With this method, you configure a combination for the password, and the clues serve as guides.
3.Dictionary attack:
The dictionary attack is useful when you have a pool of password to choose from but are not sure which it is. PassFab for Excel comes with its own inbuilt dictionary, but you can edit it and add your own entries.
Step 4. On selecting the password attack mode, it begins to recover the password. The progress will be shown to you during this locked Excel file recovery progress.
It does not take long before your password is displayed on the screen.
Tips. Open Password Protected Excel File with Known Password
This is quite simply the easiest method of opening password protected Excel file, seeing as the password is already known and there would be absolutely no need to search for tools online. This process how to open locked Excel file with known password can be properly explained in steps, which include:
Step 1: The first step involves opening the encrypted Excel file in question, and this process albeit simple can be executed in a number of ways. The most common one is by double clicking on the file in its location so as to open, or by clicking the right button on the mouse and selecting the open option. While there are several other means of opening the file, these are the two most common, and it is advised to use one of the two for simplicity.
Step 2: Once you learn how to open protected Excel sheet, the first encounter will be a notification stating that the file is password protected and one would need to enter the password to gain access. A bar is usually provided for this.
Step 3: the final process is the easiest, as all that is required of the user is to enter the password into the allocated space, and the Excel file is promptly unlocked.
It is important to make use of passwords which can be easily remembered, so as to avoid the long process of using tools. Passwords can be personal so as to make them easy to remember. This is one of the most efficient methods on how to open encrypted Excel file
Conclusion
Users are protecting their Excel files with passwords more than ever, and so, it is important to know two or three methods to open password protected Excel file. These methods ranging from online to tools such as PassFab and Passper can be used for the swift retrieval of passwords, with no damage to the file incurred.
Free Trial