People protect their MS Excel files using passwords. Without these passwords, a user cannot open the file. This is a very secure method, but if the owner forgot password for Excel file, it backfires as they won't be able to make use of the file, either. Other times, it may be a file you were sent or downloaded but do not have a password for it. In all of these cases and more, you end up with protected MS Excel files wasting away on your machine.
However, it should not be that way because there are solutions to the forgot Excel password problem. If you need a way to recover your forgotten Excel password, then this post is for you. We have compiled four ways by which you can get back your forgot Excel spreadsheet password easily.
Method 1. Recover Forgotten Excel Password with Passper for Excel
This next way is my favorite on this list, as this is a method I use normally when I forgot Excel sheet password. I do not just use it to recover my forgot Excel password; in the Passper suite, you have tools for recovering passwords of Windows user account (also Admin passwords) without logging in, ZIP passwords, etc.
Passper for Excel is a wonderful utility that presents an easy way for Excel password recovery. Here, to regain access to the file, all you need to do is import it into the application, select a mode, and hit "Recover". The final method on this list (Method 4 below) also works similarly but quite differently. There, you have to upload it to the password recovery server. Passper keeps everything locally on your machine, so there are no data privacy concerns. It also works fast and returns your Excel file unscathed. Below, we will highlight some of the features that will interest you.
Free Trial
Key features
1. It recovers Excel password from all Excel files, despite the scenario
Many situations can keep you out of your MS Excel document. You might have known the password but simply forgot it or are not sure of some characters.
2. This software boasts the fastest Excel password recovery rate in the industry
It features cutting-edge multi core GPU and CPU acceleration technology that lets you crack all protected Excel files at full speed. You do not have to wait for days or weeks to receive your Excel documents. Here, all it takes is a couple of minutes, and then you are good to go.
3. Passper for Excel can be used to remove restrictions from Excel worksheets and workbooks
Passper for Excel removes all restrictions from MS Excel worksheets and workbooks and enables you to print, edit, and even copy them.
4. This tool also has the highest Excel password recovery success rate
When tested, Passper for Excel was proven to recover the passwords 95% of the time. That is an incredibly high figure for such utility by all standards.
5. Easy to use Excel password recovery tool
Passper for Excel was not developed for tech-savvy users or industrial use but for every user. That is why the interface is clean and easy to navigate. The entire process of using this software involves only three simple steps. If you are stuck or confused on a step of the way, helpful tips and on-screen guides are present to walk you through all the steps.
6. Pause and Resume the recovery operation
If you are in the process of recovering passwords of protected files and for some reason, something comes up or goes wrong, you have nothing to worry about. This tool has the useful ability to save your recovery progress and resume whenever.
Steps to use Passper for Excel to recover forgotten Excel password:
The password recovery operation is quite straightforward. Before getting to it, you have to download and install the tool first. Once you have that sorted out, follow the steps below:
Step 1: Select the Password Recovery Mode
Launch Passper for Excel. On the first screen, you will be required to select between recovering the password and remove restrictions. Here, we are looking to recover the password, so click the "Recover Passwords" option.
Step 2: Import the encrypted Excel document and choose a password attack type
On clicking the Recover Passwords mode, you will now have to browse your computer and import the Excel file. After that, the next step is to select an attack type. Passper for Excel comes with four attack types for different password recovery requirements. Below, we will talk more on these attack types, so that you know which to use.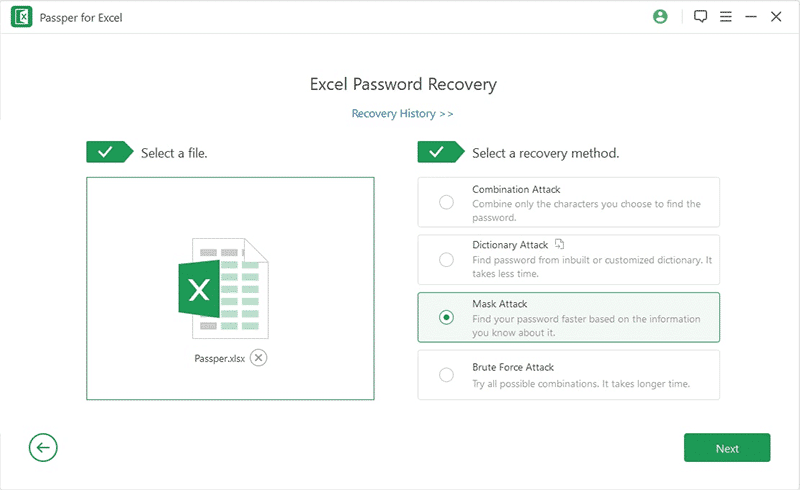 a. Brute Force Attack: Use this attack type if you do not know anything about the password. Brute force attacks take typically more time than the other attacks.
b. Mask Attack: Use this attack type if you know a few attributes of the Excel password. You can tailor the recovery to some characters, suffixes, prefixes, or specific lengths. It takes less time than the brute force attack.
c. Dictionary Attack: This mode works for a variety of password types. Passper for Excel has an inbuilt dictionary (you can modify it). Dictionary attacks attempt all the words in the dictionary.
d. Combination Attack: This mode allows you to customize the characters. You can also combine random characters for the program to attempt.
Step 3: Recover forgot Excel password
When you have the Excel file imported and selected the attack mode, you are all set to begin the Excel password recovery. The program will start to recover your password, and all you do now is give it a moment. After the recovery, it displays the found password on the final screen. On that window, there is a convenient "Copy" button that copies the password to your clipboard. Click on this button, so you don't have to write it down or remember it all over again.
Finally, open the Excel file and paste the recovered password to access a locked excel file document.
Method 2. Recover Forgotten Excel Password with 7-ZIP
With this technique to solve the forgot password for excel file issues, there's no complicated recovery with algorithms and all of that. What you do here is convert the Excel file to a ZIP or RAR archive, hack into the code, and then manually remove the block of code that stored the password. Convert the file back to an Excel file, and that's all. After doing that, the next time you open the Excel file, there won't be any inconveniences about you having to remember or enter any password.
Step 1: If you do not already have 7-ZIP on your computer, download and install it. WinRAR and other good ZIP supported compression programs will also do.
Step 2: Next, rename the extension from XLSX to ZIP. After renaming the Excel file, click "Yes" on the prompt.
Step 3: Now, using the compression program such as 7-ZIP. To do this, right-click on the file, click "Open with" and select 7-ZIP or any archiver you use.
When the file opens, you will see some files and folders as contents of the ZIP archive. From here, you have two options for recovering the forgot Excel spreadsheet password.
i. Remove the password from Excel Workbook
From the files, find the "xl" folder and open it with any text editor application.
Right-click on the encrypted workbook. It will be an XML file (e.g., workbook.xml).

Find the following tag: and remove every code under the tag. Finally, exit the editor.

ii. Remove the password from Excel Worksheet
For your worksheet, navigate to the "xl" folder.
Open the "worksheets" folder and you will see an XML file with the name of your worksheet.

Right-click on the XML file and click "Edit" to open the file in a text editor.

Find the following tag: and remove all the code under the tag.
Finally, after following any of the options, rename the file extension from ZIP back to the original XLSX. This time, when you open the Excel file, it won't ask you to enter a password.
Limitations of this method
1. It does not recover the password; it only removes the password from the Excel file.
2. Many users consider this method a little too technical.
3. It involves modifying code, and if you alter the wrong block of code, you can ruin the Excel file.
Method 3. Recover Forgotten Excel Password by VBA code
VBA stands for Visual Basic for Applications. VBA codes are readable codes that are generated from recording a macro. These VBA codes can be used when you forgot Excel password files following the steps that follow:
Step 1: Open the protected Excel file and press ALT + F11. This will open the VBA window.
Step 2: Click the "Insert" in the menu bar and click "Module" from the dropdown.
Step 3: Once you click "module", the General windows open. Here, you enter the VBA code here.
Step 4: After entering the VBA code, press F5 to run it.
Step 5: In a while, when the password has been recovered, a little popup will appear. It displays the password on this popup.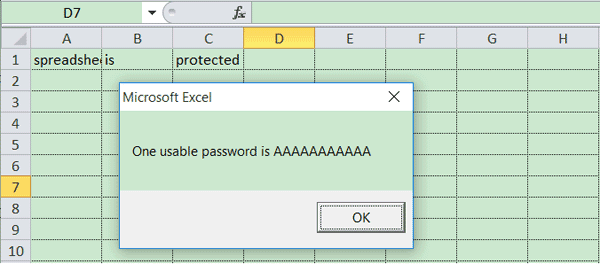 Method 4. Recover Forgotten Excel Password Online(Not Recommended)
This method is presented here as a last resort to use when you forgot Excel password if all the other techniques fail. It's an online service where you give them details about your Excel file to them and let them do the magic. When the file is unlocked, they will email it to you. The website claims to recover Excel password instantly, and this is a huge selling point for them. However, it is a bogus claim, as it is incorrect; the website also claims that it has recovery speeds 1000 times faster than the industry average, which is also not true. Here is how it works:
Step 1: On a web browser, open password-find.com.
Step 2: Click "Browse" to find and import the Excel fine. Find the file after clicking "Browse" and after importing it, click the "Next Step" tab.
Step 3: On the next page is where you will select to either delete the password or recover it. Click "Find Password" to recover forgot Excel password.
Step 4: To proceed with the operation, you have to purchase a license. After doing that, enter your email and License Keys in the fields provided. On paying for the license, the recovered password is emailed to you.
Step 5: Finally, go back to the password-find website after obtaining the license and paste the key in the field for "License Key" to begin the recovery. Password recovery takes no more than 24 hours to recover your password.
Limitations of this method
1. It is an online tool, so you cannot be sure of what happens with your data.
2. You pay each time you forgot password to Excel file and want to recover it.
Conclusion
Some people use Microsoft Excel files without passwords, and that's okay. However, important documents are usually protected with the use of passwords. This protection is vital to prevent users from modifying the file or even viewing it. If you forgot password for Excel file, then you also will not be able to use the file. On this page, we have shown you quick and easy ways to recover a forgotten password from your Excel file.
Free Trial