Computer experts strongly recommend putting a password when working on any kind of document. The aim is to protect the content from possible theft and distortion of information by hackers and intruders. People often use excel sheets to keep their most vital information. If you consider the significance of the information enclosed in the file, it is wise to put a password as a precaution.
Forgetting the password inhibits you from opening the protected excel sheet when you need it the most. And resetting the password is not similar to retrieving a password for an email or a computer. There are methods to help you navigate through the roadblocks. Here, you will study how to remove password from excel 2007/2010/2013/2016/2018 to enable you to open your document and access the data in the file quickly.
Part 1: Remove Password from Excel with Password
Personal files that contain sensitive information need to have a password to protect it and its content. However, you can give users rights to make changes or see the updates in the file, if any. Accessing the password protected excel file becomes difficult if one does not have the password or authority over the data.
Password protection is a safety measure, which you can remove whenever you want. Yes, you can remove the restrictions. Just understand the steps that we are going to show you here. We are assuming that you know the password.
However, you can jump to the next section if you want to remove password from excel 2016 without password.
Now that you know the password for the protected Excel sheet removing the protection is simple. But, the options for removing the password for various versions of Microsoft Excel may vary. However, the process is still the same.
1.1 Remove Password from Excel 2010/2013/2016/2018/2019 with Password
This method will show how to remove password from excel 2010 and ensuing versions.
Step 1: In the first step, you open the encrypted Excel workbook. And key in the correct password.
Step 2: After that, you click on the "File" button at the top corner of the menu. And then click on "Info."
Step 3: Now, go to the "Protect Workbook" option. You will find it under the "Permissions" option.
Step 4: Lastly, select "Encrypt with password" to remove the password and click OK, and save the file.
You can easily remove password from excel 2010 and higher versions by following the above steps.
1.2 Remove Password from Excel 2003/2007
Now, let's check out the four easy steps to remove password from excel 2007/2003 with password.
Step 1: Firstly, open the protected Excel workbook. And put in the correct password.
Step 2: After that, go to the "Tools" option. And select "Options."
Step 3: Now, a new window will show up with 13 options. Now, go to "Security."
Step 4: You can see a box that says "Password to Open." Click "Ok" and don't forget to "Save" the file.
Part 2: Remove Password From Excel 2018/2016/2013/2010/2007 Without Password
What happens when you want to remove the password from excel 2016, but don't know the password? It can be a devastating experience when you want to use password-protected resources, and you cannot remember the password.
Luckily, you can use other methods to remove a password from excel 2018/206/2013/2010/2007. Let us focus on the top 3 ways.
Method 1: Remove Password from Excel 2013/2016/2010/2007 with Passper for Excel
Passper for Excel tool comes highly handy when you want to open and view password protected excel files. You can use this tool several times without damaging or changing your original data. Moreover, this tool ranks highest in the success rate in the industry. It has the most powerful algorithms to remove the Excel password in the least possible time.
In short, it is the most effective and smartest excel password recovery tool available compared with other online tools. Being a professional, you often need an efficient tool to help you ace through hard to crack protected Excel files. Passper for Excel provides programs that retrieve, unlock, and removes passwords from various excel files, which shows how reliable this tool is. Furthermore, it supports high-tech technology and offers several methods to remove password from Excel 2016-2007 at an incredible work rate.
Free Trial
Some of its best features include:
It offers ten times faster Recovery Speed
This tool assures 95% Decryption Rate
It has a simple one-click removal (to Remove Restrictions)
Also, it allows you to save Recovery Progress
Follow this procedure to remove a password from excel with Passper for Excel.
Step 1: Install the Software
Install Passper software on your PC and click it to start the process. Once started, select the "Recover Excel Open Password" option and click continue.
Step 2: Add the Encrypted Excel File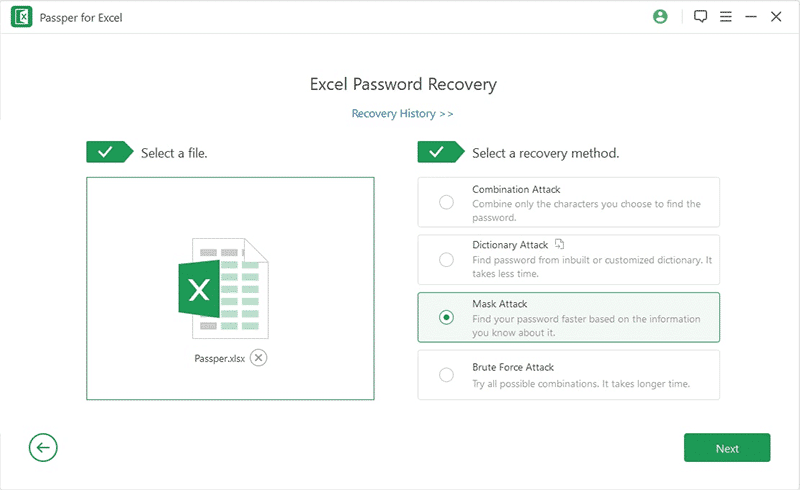 You shall add the excel file that needs to remove password. After that, choose one of the decryption methods that best suit your situation.
Step 3: Recover Excel Password
You are required to be patient for the software to crack the password. A window shall pop-up with your password.
You may think that removing the password from an excel worksheet is a difficult task; well, it's not. Use the above methods to remove password from excel 2013 and other versions with just a few clicks on the mouse.
Method 2: Remove Password from Excel 2007-2019 with 7-ZIP
Another alternative you can use to open a password protected excel is to apply a workaround method. Follow the steps below to help you remove the forgotten password from excel file.
Step 1: The first thing you need to do is change the excel file extension from ".xlsx" to ".zip." Once here, you will see the file extension after the file name of your Excel file.
Step 2: Secondly, open the ZIP file in any File Compression software. There are several free versions available. But you can use 7-Zip for its easiness. Then, right-click on that zip file and select "Open Archive." You will have to open it with your zip extractor.
Step 3: The next step is to find the folders called "xl" and "worksheets." Once you are inside the "worksheets" folder, there will be a listing of all worksheets within the spreadsheet. They are named as sheet1.xml, sheet2.xml, etc.
Step 4: Now, right-click on the worksheet and choose the "Edit" option. After that, it will present the file in notepad format.
Step 5: Now, locate the "SheetProtection," you need to hit "Ctrl. + F." By doing this, you will see an algorithm of the locked sheet. You need to clear (delete) all the information inside the brackets, including the word "sheetProtection."
Step 6: Now that you have modified the XML file, it is time to Save it. For every XML file, you will repeat the same method. After completing all the above steps, you merely need to save these modified XML files back into your "zip" file.
Step 7: Reverse the first step, i.e., rename the Zip file. You can change the extension back to ".xlsx" and then save it.
All your Excel worksheets will now be unlocked. In this way, you will gain complete access to your information and data stored in them.
Method 3: Remove Password from Excel 2007-2016 with VBA Code
Firstly, make sure that you can use this method responsibly and carefully. Also, make sure that you use it to remove password from your own excel sheet. The VBA script usually goes through the mechanism of password checking.
Step 1: Once you open the Excel Worksheet, go to the Editor with Alt + F11.
Step 2: After that, head over to the "Insert" option and select "Module." Now, you need to pick the correct file from a list. You will see a "Declaration window" to paste the above code.
Step 3: Now, run the macro (hit F5 button.) It will continue running until the button becomes available once again.
Step 4: Now, you will be returned to the excel file that you want to unprotect. At this stage, you will see an alert box containing a code.
Step 5: Head over to the "Review" section and click the "Unprotect Sheet" option. Here, you will have to use the generated code in the password field. That's it! Your excel file is now unprotected.
Bonus: How to Pick the Best Password for Your Excel?
It is common to have long lists of passwords to protect our social media accounts, mobile phone Apps, or sensitive documents. Typically, people tend to associate passwords with what they love the most. That way, it becomes easy to memorize and remember them. All the above are options that you might want to consider when putting passwords on documents. Having a combination that is easy to remember is extremely important. Besides, an easy to input password sequence is what matters the most.
For instance, you can use a different combination of letters and some special symbols and characters. It can make the password unique.
You are encouraged to use passwords to safeguard your computers and devices. It also applies to excel files that contain sensitive information. Furthermore, having a long password that is unique and easy to remember should help you protect your database. That way, you can access the data whenever you want.
Sharing a password can be dangerous to your database and the devices as a whole. There is nothing wrong with giving your password to someone, but you have to be extra careful when it comes to valuable information. Write your password somewhere you can trace as a backup plan in case it skips your mind.
It is highly crucial to understand the different processes and methods to unlock excel file whether you have the password or not. Learning the steps will help you save on resources. You also have to be aware that there are online tools that are reliable and efficient when using excel files.
Conclusion
Safeguarding your excel files is by far the best step to take when the content is of great significance. It is also wise to learn how to open excel documents with or without encryption. Using the password to open the file is not an issue, but it can be a challenge when you forget or miss the excel password.
Various software applications and programs are available online that help you remove password from excel 2016 and other versions. The above methods are easy and straightforward to apply when you want to remove passwords at any time. Nevertheless, the Passper for excel is a top choice for anyone who is not computer competent. It has an advanced, user-friendly interface, which makes it simple to use.
Free Trial