Most of us are excel users, and if you aren't, you might be bound to analyze a lot of data either from office or home. Besides, some still need to handle data from shops and larger organizations. But wait, losing this valuable data doesn't need you to be careless. Imagine you have some important data you want to analyze, but the excel file is encrypted. You'll have to know how to decrypt an excel file that is encrypted anyway or forget all about the task at hand.
I'll start this by quoting someone who came to me with a problem;
"I'm currently in a mess, having lost a valuable excel file that I had safely encrypted with a password. I've looked for the file everywhere, and I can't find it."
Are you experiencing this issue? Don't worry; you don't need to do that again.
This article provides the long-awaited solution that will guide you on how to decrypt excel file without password. By following these instructions, it becomes easy even to learn to decrypt excel file.
Method 1. Decrypt Excel File without Password Using VBA Code
If you are stuck on an excel file password protection and cannot open it, then use the VBA code method to decrypt excel password. The code used in this method is simple, and anyone can use it following the instructions. VBA code is used to recover excel worksheet passwords without losing important data. The following are the steps on how to decrypt excel password using this method.
Step 1. Create a new MS Excel file. Press ALT+F11 simultaneously to open the VBA window.
Step 2. Select Insert and click on Module.
Step 3. Press the F5 key, or rather, click on Run to run the code.
Step 4. Upon popping up of a small box, click on OK.
Step 5. Close the VBA window. This will lead you to your excel file decrypt without a password.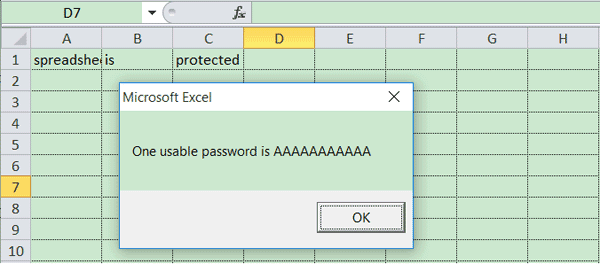 Important Points:
Should your excel file contain multiple protected sheets, you'll need to decrypt each sheet individually.
If you wished to decrypt excel without password in the 2013, 2016, and 2019 excel versions, first, save the file as Excel 97-2019 workbook (*XLS). Close the document and open the saved workbook. The file opens in compatibility mode. Run the sheet macro to decrypt the worksheet. Save the workbook file as .xlsx file.
In other words, this method only applies to single sheets of documents. With multiple sheets, you will need to run them repeatedly to have each sheet individually unprotected.
Pros
Fit for all business sizes
Secure
Cons
Only suitable for single excel worksheets
Slow if multiple worksheets are to be decrypted
Method 2. Decrypt Excel File without Password Using PassFab for Excel
Try this second option if you still struggle to find out how to decrypt excel file without password. Some of us find it difficult to remember the passwords we used to encrypt our Excel files. Besides, it turns into headaches when we want to decrypt excel file without password. This is quite easy, as there's no official way to go about it, but many tools in this industry offer this function. After testing and using the PassFab for excel, it's proven to be the best excel password recovery option to turn to if you wish to remove passwords from your Excel files without losing your data. Besides, this tool doesn't require any password; thus, the process is hassle-free.
Free Trial
Here are a few steps to decrypt excel password via PassFab for excel:
Step 1. Open PassFab for excel on your PC and click on "Recover Excel Open Password" on the main computer window.
Step 2. Click on the "+" button to find and open the password-protected excel file. This leads you to various attack modes forms that you can use with PassFab for excel. Each mode is well explained to help you choose the one that best suits you. After choosing your attack mode, click on "Recover."
Step 3. After clicking on "Recover," the software starts to recover the excel file password. The time spent recovering the password is determined by the attack mode you've chosen. After the recovery, the software will display the password on the screen.
Pros
Completely reliable
100% password removal rate
Simple to use
It doesn't damage your excel files
Support all excel files created by excel versions from 1997-2019
It can pause the excel file password removal process and allow you to resume later
Cons
Any excel document that hasn't been encrypted in the standard crypto provider can't be decrypted.
Method 3. Decrypt Excel File without Password Using ZIP
This is the most common method for users who find it hard to edit worksheets whose structure is locked. This method uses ZIP software to decrypt Excel files. The following steps will help you to solve the file puzzle.
Step 1. Change the extension of your file from "xlsx" to "Zip."
Step 2. Extract the created Zip file using "WinRAR" or "7zip" or any other zip extractor. Click on the zip file, and then select "Open Archive." Use your preferred zip extractor to open the archive.
Step 3. Open the worksheets and "xl" folders to have all the file sheets. Each sheet will then be labeled as "sheet 1.xml".
Step 4. Right-click on the protected worksheet to edit. The worksheet will be opened in notepad.
Step 5. Click on the "Ctrl+F" button on your PC keyboard. You'll get the "sheetprotection" in the Excel file. The algorithm information used to lock the sheet will be displayed. Delete every information closed in the bracket, plus the word "Sheetprotection." Save the file.
Step 6. Find the folder in which you've saved the worksheet. Click on the "xl" folder to open. You will have the "workbook.xml" file.
Step 7. Right-click on "workbook.xml" and select "edit." A notepad will be created. Delete≤workbookProtection…/≥. Save the excel file.
Step 8. Change the file name from "zip" to "xlsx". When you now open the password-protected Excel file, you'll realize that you can easily edit it without password.
Pros
It can help in decrypting excel file without password.
Cons
The process is very lengthy and technical.
There is no guarantee that the process will decrypt excel file.
Tip On How To Decrypt Excel File With Password
If you still remember the file password, things will be easier for you. Although the options for other versions of MS Excel are different, the outcomes are still the same. The following steps will help you learn how to decrypt excel file with password.
How to Decrypt Excel File with Password for MS Excel 2010 And Above
Step 1. Open the protected Excel file and key in the right password.
Step 2. Select "File" on the top left side of the menu. Select "Info," and then tap on "Protect Workbook" provided on the "Permissions" option.
Step 3. Tap on the "Encrypt with password" option on the drop-down menu.
Remove the password. Click on "OK."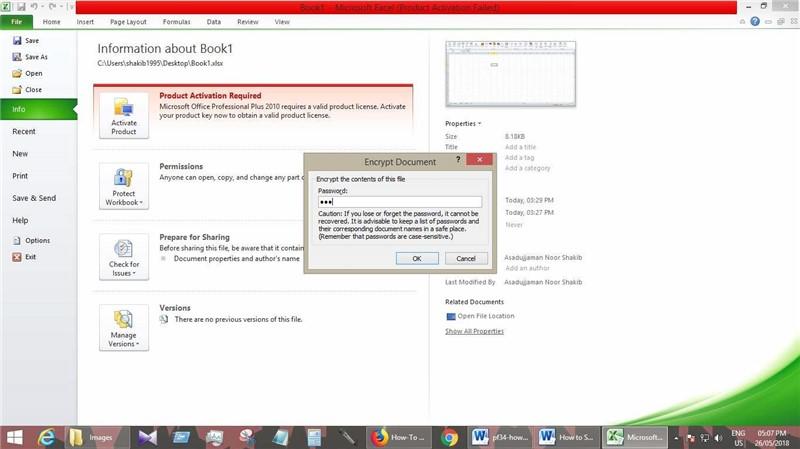 For Excel 2003 and above
Here are the steps for excel 2003 and above:
Step 1. Open the encrypted excel file and enter the accurate password.
Step 2. Go to the menu bar and pick the Tools option. Now choose Options.
Step 3. There will appear a new window; go to the Security option from all the available options.
Step 4. Go to the Password to open option and remove it.
Step 5. Press on OK and save the file.
Conclusion
The article has effectively covered the three methods on how to decrypt excel file without password easily without having to worry about facing any problem. The most effective method among all three is decrypt excel file with the help of PassFab for excel. Just follow the simple steps and instructions, and you'll have your file back, safe and intact, without having been damaged. With the shared knowledge on how to decrypt password in excel, you as well become an expert.
Free Trial