Forgot your login password of Windows 7? A strong login password is always an effective one to protect your valuable data from any unauthorized users. But sometimes it can also stop you from getting access if unfortunately; you forgot your password. So, if you are facing such an unexpected issue, then this article can show you some ways to get rid of this aggravated situation.
There are three methods available to reset the default administrator password Windows 7 and here in this article, we are going to state about those useful methods in detail.
Method 1: Reset Default Admin Password for Windows 7 with Password Reset Disk
Password reset disk is the most essential element that helps you to reset your default admin password for Windows 7 while you are unable to remember it properly. It is a specially created disk or USB flash drive that can be used to get total access over your Windows 7 computer. So, if you have already got a pre-created Windows 7 default admin password reset disk with you, then you just need to follow some easy and simple steps to recover your forgotten password.
Let us take a close look at those valuable points in detail.
In your failed Windows 7 login screen, a message appears with a link for Reset password that can lead you to reset your forgotten password with the wizard.
Step 1 Click "Reset password" option and a box with Password Reset Wizard will appear in your computer screen with "Next and Cancel" button.
Step 2 Now you need to select the "Next" and insert your password reset disk into your locked Windows 7 computer.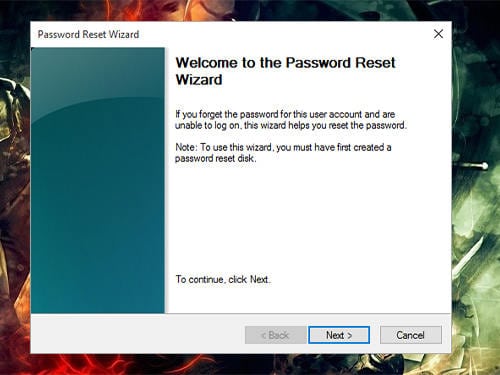 Step 3 Next you have to choose the right recovery disk from the drop-down option on your computer screen.
Step 4 Now the time is to reset a new password. The box will ask you to set a fresh and new password for Win 7 administrator. You just need to type a new one and at the below box you need to type it again to confirm it.
Step 5 Pick the "Next" button and after that click on "Finish" to complete the procedure of Windows 7 default admin password reset.
You can apply this method only if you have your password reset disk with you. It is an easy method to apply and this is the main reason why you need to create password reset disk for Windows 7 in your free time.
Method 2: Reset Default Administrator Password for Windows 7 with Command Prompt
The second way for Win 7 password resetting option is through command prompt in which you need to use the in-built DOS command to modify your forgotten username and password. You must require an administrator account in that particular computer with administrator privileges. If you have forgotten Windows 7 password, now there are some easy steps to follow that we are giving below to recover it.
Windows 7 operating system has an in-built admin account where there is no password. That account is there since the Windows installation process, and by default it was disabled. So now you just enable that default admin account to reset the other administrator account passwords through command prompt.
Let us take a look at the useful steps to reset the default Administrator password for Windows 7 in the cmd (command prompt).
Step 1 Switch on the computer and enter "F8" key for a while to boot the computer and get access to the command section. There will be an "Options for Advanced Boot" screen that will appear on your monitor.
Step 2 Now you need to employ the arrow button of your computer to mark the "Command Prompt Safe Mode" and push the "Enter" key. Your PC will start with Safe Mode in Command Prompt option.
Step 3 Now, it is time to choose the Admin account that will appear in your computer screen and then enter cmd.
Step 4 Now you need to type the command for bypassing your passwords for Win 7: such as "net user pulse 12345" & press the "enter" button. A message as "the command is completed successfully" will appear on your screen.
Step 5 After completing the process, just start over your computer again and ping out for the command prompt in Windows to log-in with a new password. There is also an option to change the account password from the Control Panel.
Command prompt is the easiest and safest way to recover forgotten password for your default administrator password Windows 7. Just follow the up-written steps carefully and you can quickly access all of your documents and data stored in your Windows 7 computer.
Method 3: Reset Default Admin Password for Windows 7 with Windows Password Reset
There is also a default admin password reset option for Windows 7 users with Windows password reset tools. Those tools are a really helpful one to get a quick admission to your forgotten password by following some simple steps. One of the most famous recovery tools is Windows Password Reset software.
Free Download
Buy Now(Pro)
The Windows Password Reset software is one of the best Windows passwords reset software that can reset all forgotten domains, Microsoft account and Windows password for 10, 8.1, 8, 7, Vista, XP, 2016, 2012, 2008, 2003 and 2000 operating system. It helps you to create a new Administrator account or remove any user account easily and regain all of your access to the Windows 7 system just within just a few minutes. Windows Password Reset has 4 editions and is highly recommended to choose the right and appropriate edition to make your forgotten password recovered easily.
Our software can support various kinds of hard drives such as SATA, SCSI, IDE hard disk and RAID to help you in your password recovery process for Windows 7.
If you have any queries about the Windows 7 default admin password recovery system, then you can visit us to get proper guidance in this segment. Our password reset tool supports all the Windows Server like 2016, 2012, 2008(R2), 2003(R2), 2000, NT, etc. to run successfully.
It guarantees a 100% recovery rate for your Windows 7 OS password. The tool supports all FAT16, FAT 32, NTFS, and NTFS5 file systems. It is a safe process as it will not damage your system and data files stored on your computer. If you have already tried the 1st and 2nd method and did not get any positive response from it, then our Windows Password Reset tool can be your most successful strategy. It seems like a tough procedure to use software to recover data, but it is very simple with our software just like a piece of cake.
So, let us have a quick look at those useful tips about how to use that password reset tools and get benefited by that.
Step 1 You just need to download the software on your computer, then install it and run to recover your password. After installation, right-click the desktop shortcut and select "Run as administrator" to open the program. Now you can see the main Windows below.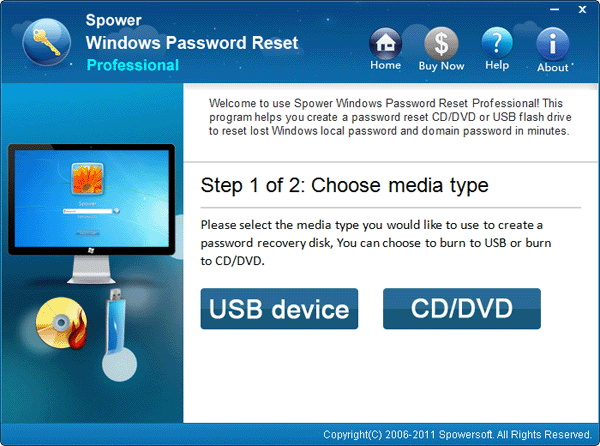 Step 2 Now you need a CD/DVD or a pen drive near you before the next step. While you are running the program, it will ask you to choose a media type for a recovery disk. Select the media name you are currently having. For example, it will use a USB drive.
Now, choose the USB Device button option and it will lead you to a screen to select the USB drive from the drop-down list. Pick the "Begin Burning" option to start writing image files to your USB drive. After succeeding the burning, there will be a pop-up message that will say "Burning successfully". It will confirm the password recovery are OK.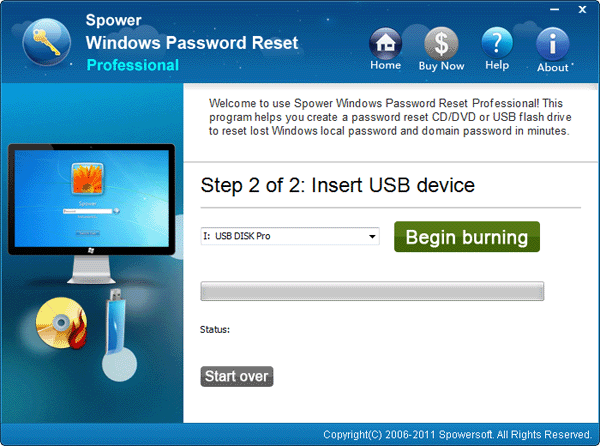 Step 3 Insert your USB reset disk to the computer for which you want to recover the password. Now start to Boot your PC and enter into BIOS settings option by typing in your keyboard. This process may differ from brand to brand of the computer. Then you need to choose the option for booting from your USB or CD/DVD if any.
Step 4 Now it is time to reboot your PC after the boot order has been changed. At this moment, your Windows password reset process will start during the booting. Below is the main screen and now you needed to select the target user to reset the password. After this, just select the "Reset Password" button from the user list. Click on "Yes" when confirmation messages pop up will appear.
After successfully resetting the password, the password of the target user account will be blank at that time. You need to run the Reboot again to eject the recovery disk and choose the "Yes" option to restart your PC. With a new flashlight, the computer will start without any password. Now it is your time to set a new one to successfully enter into your system.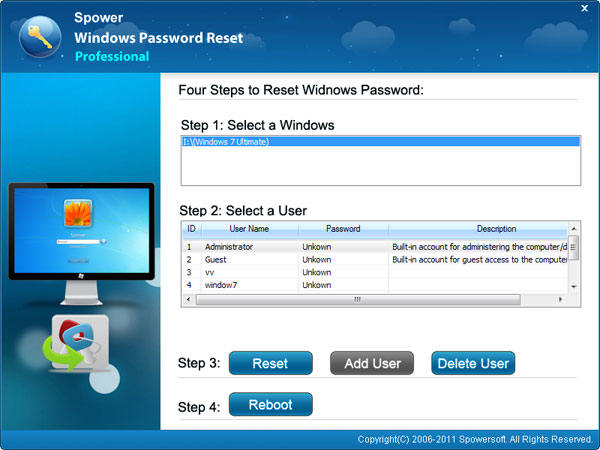 Conclusion
So, as you can see, it is not a very difficult substance to reset your default administrator password Windows 7 computer. There are 3 different and effective ways to get your job done to have access. You just need to follow some important steps and needful requirements as written in this article.
Free Download
Buy Now(Pro)