You have so many methods available on how to crack Windows 7 password. Each method has its own benefits and advantages. If you have forgotten your password, you cannot recover or access your files so this process becomes very vital and important for the recovery of the user's files and application. It becomes difficult to separate out the easy one from all complex and hectic methods. You do not need to worry about it because this article is going to discuss the easiest and fastest method available to crack Windows 7 admin/login password.
Why people want to Crack Windows 7 Login Password without Losing Data.
All modern applications have been established on Windows 7 because it is one of the most popular operating system. Nowadays, Windows 7 is installed in many institute or office computers. Normally any human can forget the Windows password. In the given below discussion we will learn "how to crack Windows 7 login password".
Method 1. Crack Windows 7 Password by Using Another Admin Account
Once you have forgotten your Windows 7 password you cannot access your data available on computer but if you have another Admin account and have the password for it you can use that to recover the other admin's password. It is simple method to crack Windows 7 password. By using this method, you can crack admin password on Windows 7 without using any software or third part application. The only thing you require is to be able to log into another admin account. Following steps should be followed to recover the admin password:
Step 1: Open Control Panel by navigation in the Start menu and then click on "User Accounts and Family Safety".
Step 2: After that select "User Accounts" and after that "Manage another account". It will show all your accounts on your Windows 7 computer.
Step 3: Click on the admin account that you want to reset its password.
Step 4: After that click on "Remove the password". Your forgotten password will be cleared immediately.
Method 2. Crack Windows 7 Password via Command Prompt
Once you forget your Windows 7 password then you need to reset it. Resetting through command prompt is one of the best solutions available for crack Windows 7 password. You will see the feature on your Windows 7 to crack your Windows 7 password using command prompt in safe mode. We will take you through the process below. This method contains following steps:
Step 1: First, you have to boot your locked computer and press "F8".
Step 2: After first step it will give you access to "Advanced Boot Options". Click on "Safe Mode with Command Prompt" in the advanced boot options.
Step 3: After that in the command prompt interface, type net user username new password. Here you will replace "username" with your account's username and "new password" with the new password you want to set.
Step 4: Your Windows 7 password has been changed now. You can Login with the new password that you set.
Also Read: How to Reset Windows 7 Password Using Command Prompt
Method 3. Crack Windows 7 Password with Windows Password Reset
Windows Password Reset is the most efficient and most powerful Windows Password Cracker, which helps you reset or recover forgotten password for Windows 7. It is one of the best method available on this issue. It efficiently cracks Windows 7 password in matter of minutes. Follow these steps to reset the password:
Step 1: First of all, download Windows Password Reset on an accessible PC.
Free Download
Buy Now(Pro)
Step 2: Secondly, you have to create a Windows password reset disk. Windows Password Reset enables you to create a USB or CD/DVD password reset disk easily. You just have to click the "USB Device" or "CD/DVD" button to select password reset disk type. Insert writable CD/DVD or USB flash drive to create a password reset disk and click "Begin burning".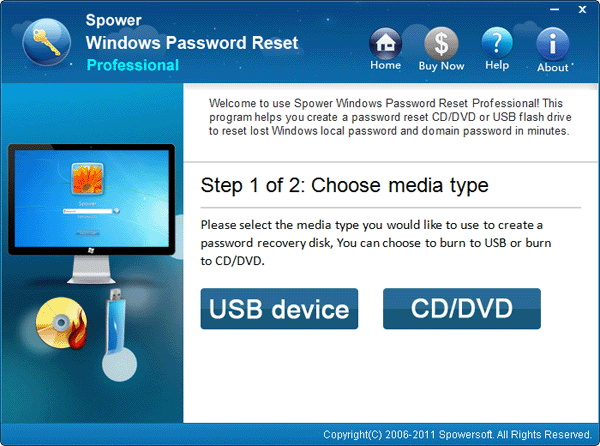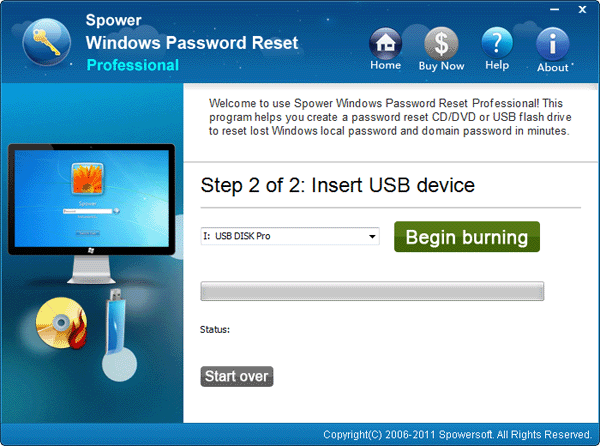 Step 3: After that, you have to insert the created password reset disk in the locked computer and boot your PC and select CD/DVD-ROM or USB drive in the boot menu.
Step 4: After booting from CD/DVD-ROM or USB drive, you have to select a Windows system and user from the menu. Now click on the "Reset" button to reset password for selected user. In Windows 7, the password will be set to blank (empty password). After that Click on "Reboot" button to restart computer. A message will pop up on the screen, eject the Windows password reset disk and click "Yes" to restart computer.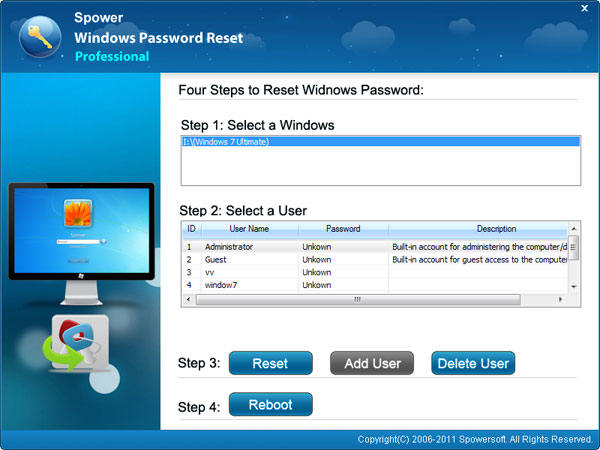 Also Read: Top Windows 7 Password Reset Tools
Method 4. Crack Windows 7 Password with Ophcrack
Ophcrack Windows 7 is a software application that is used to reset Windows 7 password. It provides its expertise in two ways to reset your password: either you can install the software package after downloading it or you could use a Live CD methodology that does not need any installation. Ophcrack is a window application which can effortlessly crack LM and NTLM password. The software package is used for Windows 7 professional password crack. Now we are going to discuss the method of using ophcrack to crack Windows 7 Password.
Step 1: Since you are using this software, it means that your Windows PC is locked and you do not know the password. The first step you need to follow is to have a different PC with internet access and administrator privileges.
Step 2: After that, you have to download the correct version of Ophcrack Live CD from the official website on the other PC.
Step 3: After installation, you have to burn the ISO file to a USB or CD. You will require an ISO burning application to perform this step. Now proceed to the next step of the password reset process.
Step 4: Now you have to remove the bootable media from the second PC and insert it into the PC of which you have forgotten your password. Make the computer boot up from this media instead of normal Windows installation. Ophcrack itself contains a small operating system so you can boot up from that application that can run independently of your Windows OS. After a few moments, you will see the Ophcrack interface on your PC.
Step 5: Now you will be viewing a menu with four options. Leave everything on the default option, which is automatic. After a few moments, Ophcrack will identify the one with the SAM file.
Step 6: Once the above-described process has been completed, you will see a window containing different user accounts and their passwords displayed in column format. Now search for your previously locked username, look for an entry in the NT Pwd column.
Step 7: Remember this password. This will be your forgotten Windows 7 password. Remove the Live CD from the drive. Reboot your PC. You will be able to login to your Windows 7 user account using the recovered password.
Conclusion
In this article, we learnt to solve the problem that how to crack a Windows 7 password by explaining four methods stepwise. These methods are not universal, it means that any method might not work with a particular set of problem. For example, another admin account method is successful only when you have another admin account on your PC of which you have forgotten the password. Moreover, we learnt that by using Windows Password Reset we can easily crack Windows 7 password without limit. It is the most efficient and quickest method of Windows 7 password resetting.
Free Download
Buy Now(Pro)