Since the launch of Windows OS, password recovery programs for the said operating system are in demand. Having over a billion users, there are some who are bound to lock themselves out of their computers. Feeling helpless, their only option is to reinstall the OS, which will also erase all their files.
But having a Windows password recovery program is a better option, they are effective and most of all them won't erase your files. Ophcrack is one of the most popular programs ever to be created for Windows password reset but as effective as it may be, Ophcrack also has the reputation of being too complicated. Most of the users stumble upon its use as they don't know how to use Ophcrack for Windows 10/8/7 password reset.
Part 1. What is Ophcrack
Ophcrack is one of the oldest Windows password crackers. Ophcrack is very quick, reliable and if you have forgotten the password for your Windows OS, this program will be of help to you.
Part 2. Ophcrack Review
The demand for Windows password recovery has increased vastly and Ophcrack is one of the most common and popular names among them. Although Ophcrack Windows 10/8/7 is a very effective and is one of the best Windows password recovery it is also very reliable. But you have to realize that, it is not a perfect program, there are a few qualities of the software that does not really work on its favor. So, let's have a quick look into the pros and cons of Ophcrack Windows Password cracker.
Pros
First of all, this is free software, you can easily download it from the internet.
There is a LiveCD method designed to recover password automatically.
Installation of Ophcrack is also not required for password recovery.
You don't need to have to know the password for its recovery.
Ophcrack is compatible with several version of Windows OS like Windows 7/8/XP and Vista.
Cons
You will have trouble to use this program along with your anti-virus, as most of the anti-virus detects Ophcrack as Trojan which is completely ridiculous.
You have to download the ISO file from the internet.
The image files need to be burned on a CD/DVD or USB drive.
If the password is longer than 5 characters, this program does not work.
Hasn't been modified for a long time, so, it does not work with the latest Windows 10.
Overall, Ophcrack is a great password recovery program for Windows. But the program lacks refinement and it lacks power. If your password is too long then you can forget about using Ophcrack and also it does not work on Windows 10.
Still, if you are able to operate the program properly, you will be able to reset the password for older versions of Windows OS if the password was 5 characters or less.
Part 3. How to Reset Windows 10/8/7 Password with Ophcrack
As mentioned earlier, Ophcrack uses a very unorthodox method for password reset on Windows. One of the main issues with Ophcrack is that, users weren't able to execute the program properly.
So, if you are looking for a reference, here's how to use Ophcrack Windows 7 or Windows 8:
Step 1: First, you have to visit the official Ophcrack website and download the ISO image file.
Step 2: After downloading the file, you have to burn the ISO files into a CD/DVD or on a flash drive, if it is convenient for you.
Step 3: Now, insert that flash drive into the locked computer and reboot.
Step 4: Ophcrack will load automatically, as you are using a bootable disk.
Step 5: On the Ophcrack interface you will have 4 options, you have to select "Ophcrack Graphic Mode-Automatic". Then, hit "Enter".
Step 6: Now, Ophcrack with start executing the command automatically.
Step 7: Now, Ophcrack will start the password reset process, after the password is recovered, it will be visible on the screen. You must write it somewhere.
After the password is recovered, you must reboot your computer and use the recovered password for accessing Windows OS. Unfortunately, Ophcrack Windows 10 will not work, so, if you were about to use it for Windows 10 password reset, you must use the alternate program mentioned below.
Part 4. Best Ophcrack Alternative If Ophcrack for Windows 10/8/7 Not Working – Windows Password Reset
Ophcrack is without a doubt an excellent program for password recovery but there are just too many drawbacks with it, making it unusable for the users in most instances.
So, if Ophcrack not working for you, then you must use other available password recovery programs for a successful recovery.
But we have already found the best alternate for Ophcrack and it is called Windows Password Reset. It is an all-in-one password recovery program, compatible with Windows 7/8/8.1/10/Vista/XP/2000/2003/2008/2012/2016.
This is one of the best Windows password cracker ever to be created, it is even capable of Administrator account recovery. So, let's have a look at its strengths and weaknesses.
Pros
Capable of resetting both Administrator and Local account passwords on Windows.
Compatible with Windows 7/8/8.1/10/Vista/XP.
You can even reset Domain Administrator password for Windows Server 2000/2003/2008/2012/2016.
Capable of resetting passwords for Windows 8/8.1 and 10.
You will be able to delete user accounts without even logging in.
You can easily create a password reset disk on both CD/DVD and USB drive, successfully.
Cons
Windows Password Reset has 4 available editions: Professional, Ultimate, Special and RAID. All of them are payable but a free trial version is available.
Part 5. How to Reset Windows 10/8/7 Password with Windows Password Reset
Windows Password Reset is completely different compared to Ophcrack. This is better, effective and very quick. So, let's look at the user-guide below:
Step 1: First, visit the Official website for Windows Password Reset and download anyone among the 4 editions.
Free Download
Buy Now(Pro)
Step 2: Then, install the program on a different Windows computer.
Step 3: It is time to create a Windows password reset disk. Launch the program and select a media type.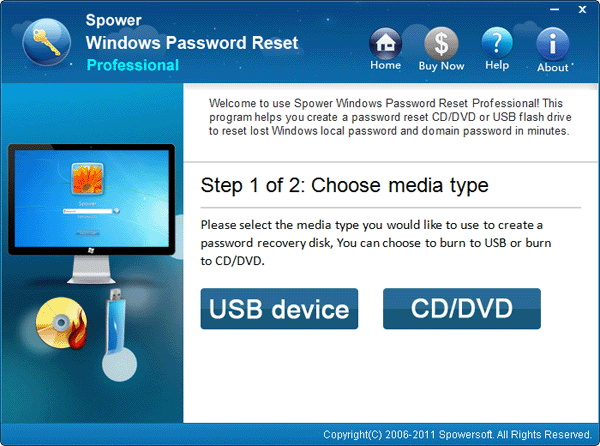 Step 4: If you have chosen to select USB Flash Drive, click "Begin burning" in order to create a password reset disk.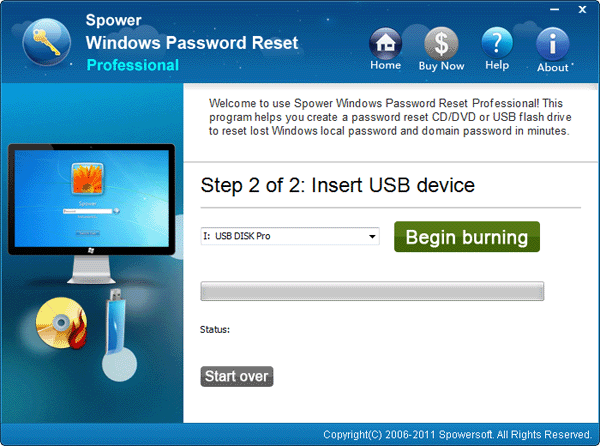 Step 5: Now, insert the bootable USB drive into the locked computer and boot from it. Restart the computer and access Bios menu, then select the USB drive.
Step 6: The program will load on the computer, then select the Windows system and the users from the main interface of the program.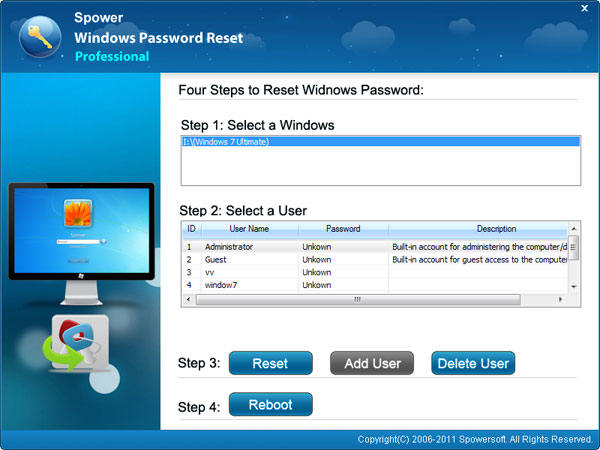 Step 7: Then, click the "Reset" button below to reset the password.
Step 8: After resetting the password successfully, click "Reboot" to restart the computer.
This is an easier and more effective method of password reset for Windows computers. This program does not recover the password like Ophcrack, it resets the password completely, so, when the computer starts again after reboot, you will be able to login Windows without any password.
Conclusion
So, if you were asking: how to use Ophcrack Windows 10? Unfortunately, it will be impossible as Ophcrack does not work on Windows 10. But we have provided you with an alternative for Ophcrack Windows 10 which is much better. It is called Windows Password Reset, it performs smoothly and the operation is very easy.
Free Download
Buy Now(Pro)