Using Windows Vista is intuitive, it always gets things done, and most importantly, it's incredibly simple. But, Microsoft finally jumped ship and ceased supporting Windows Vista. So, you might want to save yourself from the resultant system vulnerabilities by migrating to Microsoft's latest OS, Windows 10.
However, Microsoft doesn't facilitate a direct upgrade Windows Vista to Windows 10. Instead, you have to completely uninstall your Vista OS, before proceeding with a clean installation of Windows 10.
All that might sound complicated, but we've got you covered. This guide walks you through all the basic steps of how to update Windows Vista to Windows 10.
Then to top it off, we also give you a quick tip on resetting your Windows 10 password after all is said and done.
The Step-By-Step Windows Vista to Windows 10 Upgrade Tutorial
Step 1: Back Up Your Critical Windows Vista Files
Since you'll ultimately be forced to perform a clean installation of Windows 10, you might want to begin by backing up all your critical Windows Vista files before updating Vista to Windows 10. Otherwise, you risk losing them along with the rest of the system data during the pre-installation disk format phase.
That said, you could rely on a specialized third-party data backup solution. Or alternatively, simply use Windows Vista's built-in Backup Tool to copy your critical files to an external drive.
Now, to access the Backup Tool, click on the Windows Start button, go to the Control Panel, and proceed to the System and Maintenance segment. Under its list of options, you'll find a Back Up Your Computer link, which will eventually lead you to the Backup and Restore Center.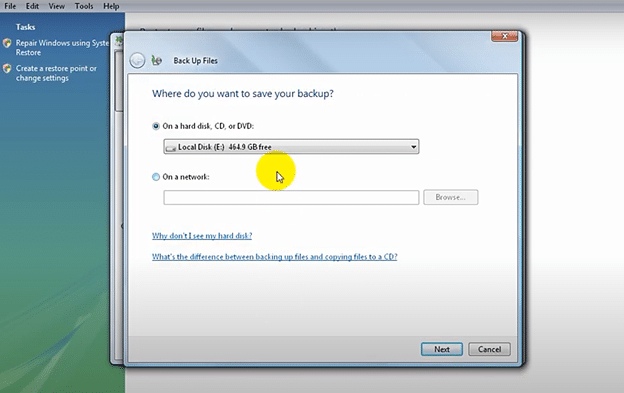 With that, you can go ahead and create backups of all the important files.
Step 2: Download Windows 10 and Create a Bootable USB Drive
Thankfully, Windows 10 is readily available on Microsoft's website. So, you can proceed to download its latest version in the form of a disk image file- which is otherwise known as an ISO file.
But, get this. While ISO is basically an installable file, you cannot initiate a system upgrade just yet. Your only option here is transferring the disk image to an external drive and then booting the Windows 10 installer.
For that, you'll need a standard USB flash drive with at least 8GB of storage space, plus an ISO burning software. You could try out free solutions like IsoBurn, WinISO, ImgBurn, PowerISO, and Free ISO Burner.
In the end, you should be able to create a bootable drive by burning the Windows disk image file onto the USB flash drive. You just need to run your selected burner solution and then specify the file source, as well as the USB drive destination.
Step 3: Clean Install Windows 10
After checking and confirming that the bootable USB drive is ready to roll, you can now go ahead and perform a clean installation of Windows 10 to finish upgrading Windows Vista to Windows 10 by following this procedure:
With the flash drive inserted, restart your PC.
But, before the boot-up process initiates, hit your PC's BIOS specific keys to launch the BIOS management system.
The system will give you the chance to configure the boot-up sequence. So, go ahead and set the PC to boot directly from the USB flash drive.
Once the bootable drive kicks in, the first requirement will be specifying your preferred time and currency formats, as well as the system language.

When you're done, hit Install Now in the subsequent window.
Type in your Windows 10 product key and click Next.

Pick the precise Windows 10 edition that accompanies the product key you purchased.
Read and accept the licensing agreement.
Proceed with the advanced custom installation option that comes with Windows alone.

Select your hard drive's Partition 0 and hit Delete. This will subsequently erase the data in your previous Vista system.

Direct the system to deploy Windows 10 on the unallocated space, and then start the installation process by clicking Next.

The whole Windows 10 installation process should take a couple of minutes. And when updating Windows Vista to Windows 10 is complete, you should apply the final touches by personalizing your new OS. Windows 10 will automatically display its basic settings at the very end.
In the meantime, you should particularly pay close attention to the password management section. And if you ever need to need to reset the password, here's an easy way of handling the complications that come with it…
Bonus Tip: How to Reset Windows 10 Password After Upgrade
Come to think of it, you may forget the administrator password in your new Windows 10 system. Resetting it is a headache, which typically involves verifying your details via Microsoft Live, or reinstalling Windows 10 while using the command prompt to configure its utility manager.
But, that's not all. The other alternative would be leveraging the Windows Password Reset. I must admit that so far, this is my favorite option because of all the power that it packs.
Free Download
Buy Now(Pro)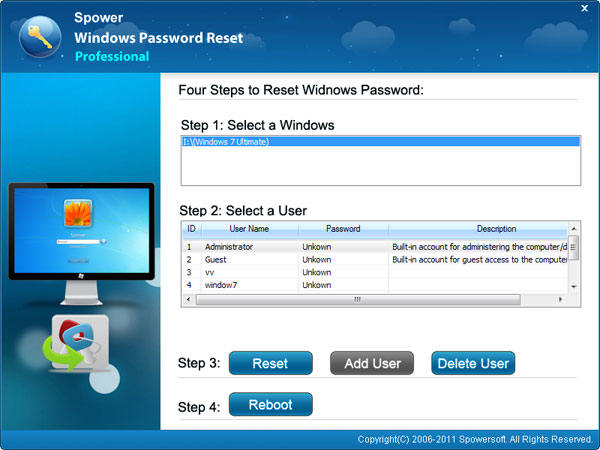 In short, it is a simple all-inclusive password reset solution for Windows. Not only does it help you quickly reset Windows 10 password that you happen to forget, it's also capable of creating and deleting user accounts.
So, it would be wise to have it handy for the long haul.
Conclusion
After upgrade Windows Vista to Windows 10, it won't take you long to learn the ropes on Windows 10, since it happens to share many similarities with its Vista predecessor. Therefore, you should be able to transfer all the backed up files in no time.
It's worth noting, however, that while Windows 10 is arguably more intuitive than Windows Vista, it loses the battle when it comes to stability. You'll notice that it comes with a couple of glitches here and here. So, you might want to keep up with the system updates that Microsoft releases from time to time. And while you're at it, remember to protect your PC with strong antivirus software.
Free Download
Buy Now(Pro)