Human nature consists of many qualities and one quality is forgetfulness. Many people have a password to login to the Windows, but what if they forget the password. If you don't remember your Windows 7 password and you have the password reset disk, then you can easily reset your Windows 7 password, but what if you do not have the disk?
Keeping a password reset disk for Windows 7 is very rare. But there is no need to worry. This step by step tutorial will guide you through the whole process and different methods for Resetting Windows 7 password without password reset disk. There are three main methods if you forgot Windows 7 password no reset disk:
Method 1: Reset Windows 7 Password without Disk using Built-in Administrator in Safe Mode
During system installation Windows 7 creates its built-in administrator account. If by any chance you have enabled it and haven't set any password for a built-in administrator account then it will be blank by default. Now, in order to access the built-in administrator to reset the Windows 7 account password without disk, boot your Windows 7 computer in safe mode.
Follow the steps listed below to reset Windows 7 password by using a built-in administrator in safe mode:
Step 1: Start your computer. While it's booting press "F8" key persistently which will take you to a black screen with multiple options called "Advanced Boot Options" screen.
Step 2: Select the "Safe Mode" option from the Advanced Boot Options screen using arrow keys and then press "Enter". Your computer will enter in Safe Mode.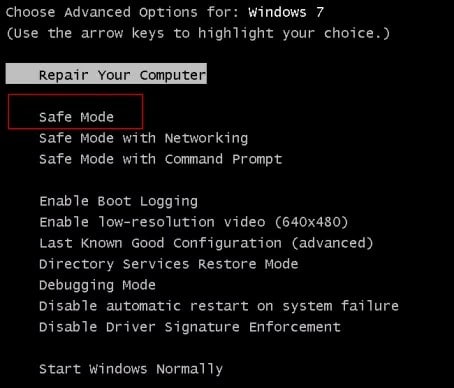 Step 3: You will be directed to a login screen. Choose "Administrator" from the profile options which by default need no password to log in.
Note: If you have set a password for the built-in administrator account then you will have to enter the password in the password input field instead of leaving it blank to get access
Step 4: Open the "Control panel" from the start menu.
Step 5: you will enter "Control Panel" screen then click on "User Account and Family Safety" option
Step 6: Select "Add or remove user accounts" options from the category "User Accounts and Family Safety".
Step 7: Choose the Account for which you want to change the password.
Step 8: Navigate to the "Change your password" option on the left and click on it
Step 10: Add the new password and then restart your system. Now, you will be able to login to your Windows 7 account using the new password.
Method 2. Reset Windows 7 Password without Disk using Windows Password Reset
It is the easiest, efficient and hustles free way to reset Windows 7 password without disk. Windows Password Reset helps you reset the forgotten Windows password with ease. The software is user-friendly and has an intuitive interface that helps the user to walk through the process of resetting the Windows 7 password without reset disk with ease. The following steps should be followed:
Also Read: Best Windows 7 Password Reset Tools
Step 1: Download and install Windows Password Reset (Professional, Ultimate, Special, Raid). The program support the installation in the following operating systems Windows 2000/xp/vista/7/8/8.1/10 and Windows Server 2003/2008/2012/2016.
Free Download
Buy Now(Pro)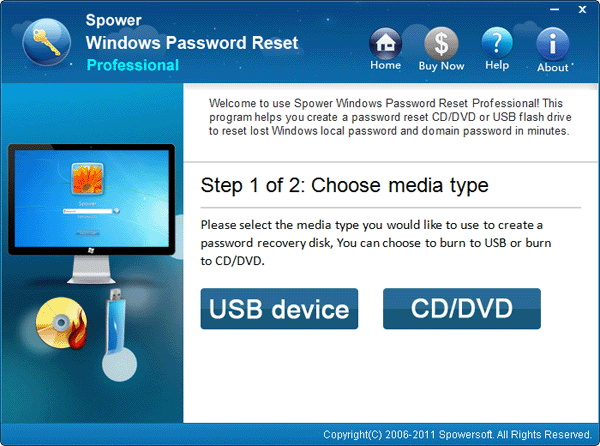 Step 2: After installing, create a Windows password reset disk.
Windows Password Reset will help you in creating USB or CD/DVD Windows password reset disk with ease. To select the password reset disk type click on "USB Device" or "CD/DVD".
In order to create a Windows password reset disk, insert the writable CD/DVD or USB and click "Begin burning".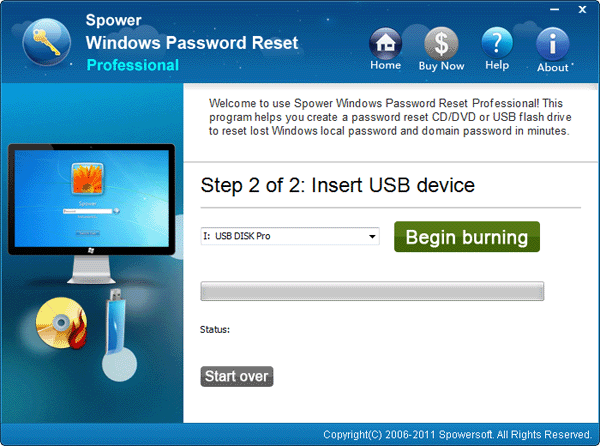 Note: step 3 and step 4 are implemented on the Windows 7 computer which is locked out.
Step 3: Boot the locked computer from CD/DVD-ROM or USB drive.
Insert Windows password reset disk to the locked computer after starting the locked system to boot from CD/DVD-ROM or USB drive.
Step 4: Reset password for Windows 7.
When the Windows Password Reset starts, follow the steps:
Select a Windows from the option.
Select an Account from User.
Click the "Reset" button to reset the password. Then the Windows 7 password will be removed.
Click the "Reboot" button to restart the computer.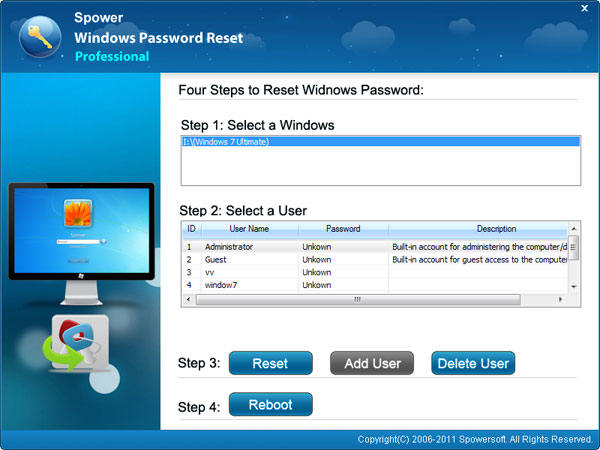 The following screen will prompt, eject Windows password reset disk and restart the computer by clicking on "Yes".
After restarting, you can log in to the Windows 7 without password.
Method 3. Reset Windows 7 Password without Disk using Ophcrack
Another 3rd party software in the market is Ophcrack for Windows 7 which is used to reset Windows 7 without disk. It consists of the rainbow tables and provides free tables for all OS versions from XP to Windows 7. But this software has some major setbacks. Ophcrack is considered as a Trojan by antivirus programs and the large ISO image will take a lot of time to download. It cannot crack Windows password which creates more than 14 characters which is its biggest limitation.
Following steps should be followed to use Ophcrack:
Step 1: Download Ophcrack Vista/7 LiveCD from http://ophcrack.sourceforge.net/download.php and download the correct version for your locked computer.
Step 2: The download for ISO file will begin.
Note: This might take some time because of the large size of file
Step 3: Burn the ISO image file into a CD/DVD or USB drive.
Step 4: Start or restart your password forgotten Windows 7 computer. Persistently press "F2" or "DEL" key until entering its BIOS setup utility. On the BIOS screen, set your computer to boot from the CD/DVD flash drive. Start your system again and persistently press the "F2" button in order to enter the BIOS setup utility. Once entered, boot your computer from CD/DVD or USB drive to reset Windows 7 password
Step 5: After some time, Ophcrack software will recover your password and you will find it in the NT Pwd column.
After recovering the password, note it down and remove the disk. Restart the computer and enter the retrieved password.
Conclusion:
Resetting a Windows 7 password without disc can be a nightmare but not with the help of Windows Password Reset. Using the right software makes the task of resetting Windows 7 password without reset disk less time consuming and hustle free. There are different methods available to reset Windows 7 password, like Ophcrack and using built-in Administrator in safe mode but these methods also have some disadvantages. Built-in administrator in safe mode can only be used if the person has some technical background. Ophcrack is another 3rd party software that can be troublesome to download as the ISO file is large (649M) which makes it irritating for the user to download. The best possible solution that we have is Windows Password Reset. The program overcomes the faults and shortcomings of other methods and provides you with a product that is easy to use and less time-consuming. This software can be used by anyone without having a technical background because of its user-friendly and interactive interface.
Free Download
Buy Now(Pro)