For adequate protection, every Windows user must use a password to protect their account. This is a universal iron code. However, when the password is forgotten, this protective layer can become a real pain. Did you happen to forget your Windows Vista password? No need to panic. The world is not coming to an end. This article will focus on ways to bypass Windows Vista password.
Windows Vista: The Timeless Legend
In the history of the Windows operating system, Windows Vista marks a major leap. Despite not being loved as much as Windows XP or Windows 7, Vista played an important role in how the desktop experience of the Windows ecosystem transformed.
It's the very first OS where Microsoft introduced Windows Aero, a completely new GUI design. Vista introduced the support for DirectX 10. Microsoft introduced Windows Sidebar with numerous interesting gadgets. The UAC was introduced by Windows Vista. Vista was stable with solid application compatibility.
In short, it was a boom. Even Windows 7, arguably the most successful Windows OS after XP, is Vista at the core.
Bypass Windows Vista password
There are many ways to recover access to Windows Vista if you happen to forget the Windows Vista login password. You can do the recovery by yourself, with/without any additional software! Some of the tricks should also work fine on the newer Windows desktop OS.
Part 1: Bypass Windows Vista Password with Software
1.1. Introduction to Windows Password Reset
There are multiple ways to bypass Windows Vista password without disk. However, most of them aren't so user-friendly. That's where 3rd-party tools come in. One such tool is Windows Password Reset. It makes the password reset procedure extremely simple. It's a powerful all-in-one tool that supports all the major Windows operating systems like Windows XP, Vista, 7, 8, 8.1, 10, and Windows Server 2008, 2012, and 2016, etc.
The way it works is simple. It creates a bootable CD/DVD or USB flash drive. Boot into the media and follow the on-screen instructions. Your Windows system is unlocked!
Note: This is a paid tool with 4 different versions (Professional, Ultimate, Special, and RAID), each with its own features. Make sure to grab the one that suits your needs.
Depending on your usage, purchase a suitable license. It's a one-time purchase, so definitely worth it.
1.2. Bypass Windows Vista Password with Windows Password Reset
This portion will showcase how to use the Windows Password Reset to bypass Windows Vista password.
Getting Windows Password Reset
Download the tool on an accessible computer.
Free Download
Buy Now(Pro)
Software installation
Run the setup file and follow the on-screen instructions.
Creating a bootable media
Now, we're on the home screen of the tool.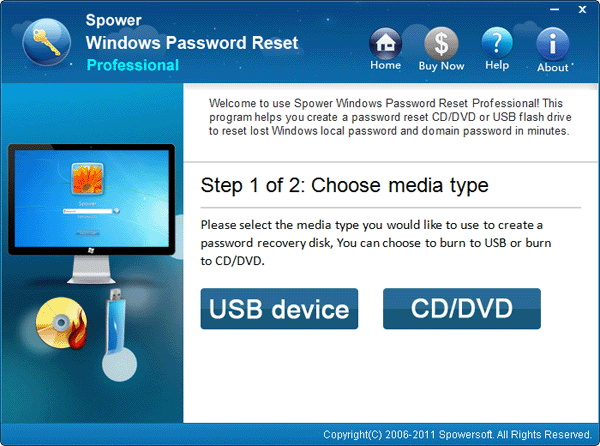 This portion of the software will help you create a bootable media. I'll be using an 8GB USB flash drive to create the bootable password reset disk.
Once connected, the tool should automatically detect the USB drive. Then click the "Begin burning" button.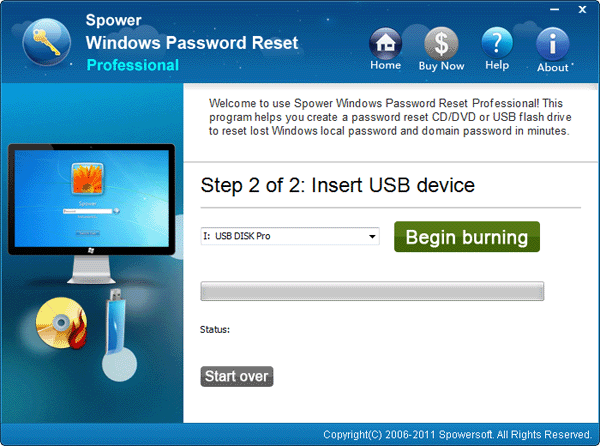 Hit "Yes" when the warning prompts. It's important that your USB flash drive doesn't hold any valuable information that, if lost, could cause trouble.
Wait until the process finishes. You'll get a success message denoting that the process is complete.
Booting into the bootable media
The USB flash drive will be used to restore access to the Vista system.
Connect the USB drive to the machine. Restart and get into the boot menu. From the boot menu, select the USB flash drive to boot.
Now, getting into the boot menu is critical here. Different system vendors designate different keys to access the boot menu as there's no specific, universal way to do it. So, you have to do your own research.
Resetting password
Once you've booted into the tool, you'll see something like this.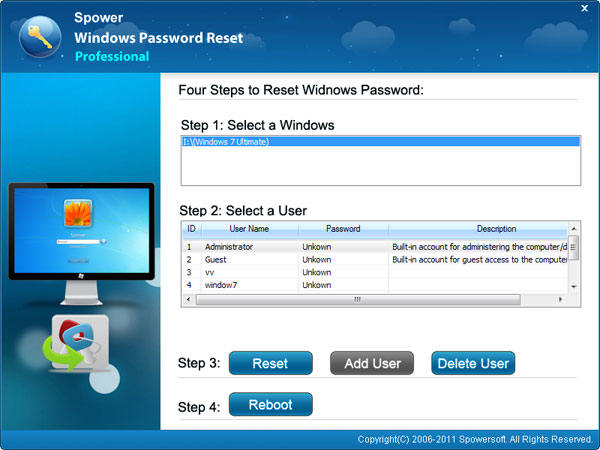 Select the Windows installation where your user account is. Then, from the second window, select the user to reset/delete. The tool also allows deleting any existing users and adding new ones.
Once you're done, hit the "Reboot" button.
You'll get this warning prompt. If you're confident that whatever change you made is sufficient, press "Yes."
Part 2: Bypass Windows Vista Password without Software
While using the 3rd-party software is the easiest way, that's not the only option. The methods include using a password reset disk or the installation media to bypass Windows Vista password without software.
Let's check them out!
2.1: Bypass Windows Password with Installation Media
This method is a bit complex. It requires tinkering with a handful of commands at a different stage. Worry not, even if it's your first time working with the command line, you can pull it off. Just put some focus and do EXACTLY what the guide says.
Acquiring Vista Installation Media
If you're to follow this method, this is the first requirement. It can be a real pain to grab a copy of Windows Vista installation media as it's been years since the last copy of Vista was sold. If you happen to have one, that's awesome! If not, try looking on the internet.
Making Vista installation media
Then, make a bootable media. It can be a USB flash drive or a CD/DVD. In this case, I grabbed an ISO of Windows Vista. If you're making a bootable USB flash drive, use Rufus. It's a lightweight tool for creating bootable USB flash drives in minutes!
Tweaking Windows
Now, boot into the USB flash drive. The good old installation screen of Windows Vista will welcome you.
Make sure that you have all the appropriate options selected. Then, click "Next."
We're now on the page where we can choose to install Windows Vista completely fresh. Of course, that would fix the login issue. However, that's not what we're going to do. Instead, click the "Repair your computer" option at the bottom.
You'll have the lists of Windows installations on your system. Select the one where you can't log in.
Now, you'll have a list of available recovery tools. Select "Command Prompt."
It's time to run some commands. In my case, the Windows installation is situated on drive C. If it's different in your case, make sure to the appropriate one. Run the first command (type the command and hit "Enter").
copy C:\Windows\System32\sethc.exe C:\
Run the second command of this sequence.
copy /y C:\Windows\System32\cmd.exe C:\Windows\System32\sethc.exe
Our work is complete. Now, restart your machine using the power button and boot normally into Windows Vista.
Changing password
Press the "Shift" key fast about 5 times. This will kick the "Sticky Keys" feature. However, because of the tweaks we performed before, it'll start the Command Prompt with admin rights.
Now, type the following commands to bypass the password of your Windows Vista account.
net user
Replace the username and password fields with the user account name and new password. Run this command to get out of the Command Prompt window.
exit
Testing result
Login into the Windows Vista accounts with the new password.
Reverting back changes
It's time to revert back the changes. Go back on the Command Prompt from Vista installation media and run the following command.
copy /y C:\sethc.exe C:\Windows\System32\sethc.exe
2.2: Bypass Windows Vista Password with Password Reset Disk
Password Reset Disk is an interesting feature that allows using a USB flash drive as your authentication key to bypass Windows Vista password without software. This feature is available on all the major Windows operating systems, including Windows Vista.
Note: This method requires creating the Password Reset Disk once you're logged into the account. If you created the reset media before, then you can follow this procedure. If you didn't, your only options are the other procedures mentioned in the article.
Restoring access using the Password Reset Disk
Assuming you already have a Password Reset Disk, connect the USB flash drive and start the computer.
Once you're on the login screen, type a wrong password. It'll show the error message.
Once you click "OK," you'll have the "Reset password" option. Click on it.
The "Password Reset Wizard" will start. Click "Next."
Select the Password Reset Disk from the drop-down menu.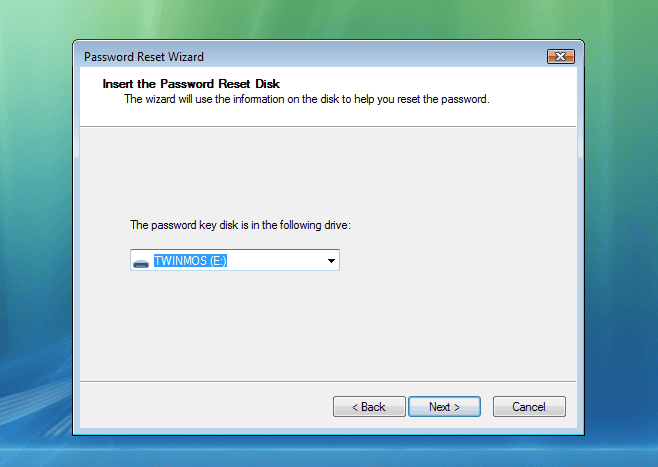 Now, type a new password.
Voila! The password reset is successful!
Conclusion
Recovering access to local Windows Vista accounts is quite simple. No need to panic in case the Windows Vista login password is lost. And there is one last thing you can do to bypass Windows Vista password if none of the above methods works, which is factory reset Windows Vista without password, but it will erase all your data, so we don't mention this method in this article.
However, there's also a privacy concern with these methods. Anyone with the right skill and physical access to the system can use these tricks to access the user account of others. If your system is physically lost, then the password protection won't be of any help.
To prevent such a situation, it's always recommended to encrypt and backup your important data. You can also password-protect the BIOS. It'll mitigate booting into unauthorized devices. However, don't forget the BIOS password, that's far more dangerous to forget than Windows Vista account password!
Free Download
Buy Now(Pro)