If you are reading this, you are probably looking to learn how to reset admin password on HP laptop. I would say it is impossible to reset password on, and you need to format the machine, but that would be false. Some methods will remove the password on Windows 10/8/7 in a few minutes and after quite a few clicks, so don't go formatting a perfectly OK system because you forgot HP laptop password. Read the following methods listed here and note that you must meet the requirements to run the individual method.
Method 1. Reset HP Laptop Password with HP Recovery Manager
HP Recovery Manager is a useful tool that helps you wipe your laptop, allowing you to start afresh and assign a new password and regain access to your PC.
However, before I proceed to show you how to reset password on HP laptop without disk using the HP Recovery Manager, I must warn that this method will wipe every data from your machine in the process. If that is okay by you, follow the steps below to use it. Alternatively, if you have nothing to worry about because this guide is packed with well-researched information and guides that will teach you how to reset Administrator password on HP laptops without you having to lost any data. All the other methods taught in this article that will work for your situation.
Step 1: Disconnect all devices connected to your computer, except your keyboard, mouse, and desktop and shut down the system.
Step 2: Turn on the computer and then press "F11" repeatedly until the option menu appears.
Step 3: Click "Troubleshoot" and then click "Recovery Manager." Next, hit "System Recovery."
Step 4: Select and click "Recover without backing up your files" and click "Next." Click "Next" again.
Step 5: Your HP laptop password has been removed, and so is all of your data on the computer — time to set up a new user account password.
Method 2. Reset HP Laptop Password with Another Admin Account
If you prefer not to erase your computer, learn how to reset password on HP laptop Windows 10/8/7 by making use of another admin account. This is useful if there are multiple user accounts on the computer, and you have access to an Administrator account.
Computers can have different types of user accounts, and Administrator accounts usually have full privileges.This is why the topic of learning how to reset administrator password on hp laptop is a crucial one. If you have a different admin account on the computer, you can use the admin account to reset the password of the other (locked) admin account.
Note that you cannot use a local user account for this method. If the account is not an Administrator account, it must be part of the administrator user group. Continue reading to find out how to do it:
Step 1: Press the Windows key and open "Control Panel". A quick way is by searching for the term "Control Panel," before you finish typing that, you would find "Control Panel" suggested on the "Start" menu. From the Control Panel, click "User Accounts" and then "Manage Another Account."
Step 2: Here, all the users will be listed. Click the specific one whose password needs to be changed.
Step 3: On clicking on the specific account, a new page opens for that account. From here, lick the "Change the Password" link on the left-hand side of the window, and you will be redirected to the screen for changing the password.
Step 4: On this "Change (account name)'s password" window, enter your new password and password hint (optional but recommended), and then click "Change Password."
Method 3. Reset HP Laptop Password with Windows Password Reset
When anyone forgets their HP laptop password or cannot log in, they quickly search online for the best software for resetting their passwords, but this can be confusing and unpredictable. A quick Google search will bring up tons of password recovery software, but most will either not work well or end up damaging your machine.
Because we love our readers and want to help you, we have carried out the research on your behalf, and will now reveal to you that the best software for resetting your HP password is Windows Password Reset. We will explore this tool and show you how to reset password on HP laptop without disk using Windows Password Reset.
Free Download
Buy Now(Pro)
We highly recommend that you use software to reset your HP password. Windows Password Reset is one of the best Windows Password Crackers, which handles all the heavy lifting for you, and with most, after a few clicks, your HP laptop password will be reset. This also reduces the risk of errors.
Some Key Features:
No tech skills required to use this software effectively. People who are entirely new to tech have no difficulty using Windows Password Reset, and they generally have success on the first try.
Compatible with Windows computers of all the major releases from Windows 2000 right to the current Windows 10, so you have no issues working with it, so far as your machine runs on Windows.
This fantastic tool is, as well, compatible with all the major Windows Server editions and you will have no issue running it on any.
Works on all the Windows PC and Windows Server operating system versions.
Allows you to delete a user account without needing to log in.
Works on RAID Server.
Steps to reset password on HP laptop using Windows Password Reset:
Step 1: Install the software and launch it on a computer that is not locked.
Step 2: Using a CD/DVD or USB drive, make a Windows password reset disk. Insert the CD/DVD or plug the USB drive and then click the green "Begin burning" button to the right.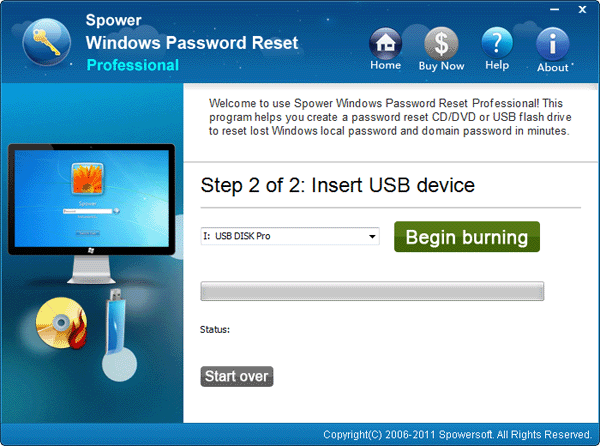 Step 3: With the password reset USB stick still connected to your computer, or the CD/DVD still inserted, configure your locked computer to boot from the CD/DVD or USB password reset disk you created. Follow the below steps closely to learn how to do this:
Boot the computer and press and hold your BIOS entry key immediately the screen comes on. Hold the key until the BIOS screen shows.
Use the directional keys to navigate to the "Boot" tab. Make use of the front and back buttons.
Highlight the password reset media and using the "+" and "-" keys, bring it up to the top of the list.
Press "F10" to save the setting.
Highlight "Yes" when you are asked and hit "Enter" to save and exit to Windows. Done.
Step 4: Insert the password reset disk and reboot the computer. This time, watch that it boots from the selected media.
Step 5: On the Windows Password Reset window is where you reset the password.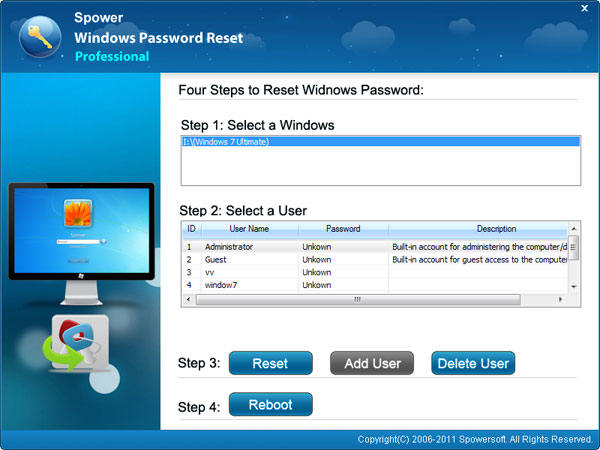 Here is how to reset password on HP laptop on Windows 10/8/7 using this tool:
Select a Windows system.
Select the user account you want to work on.
Click on the "Reset" button and then "Reboot" button.
Finally, a Window will pop up, warning you that your computer will restart. It also advises that you "unplug the CD/DVD or USB" before accepting. Hit "Yes" on the prompt that shows after to restart your computer. Now you can log into Windows 10/8/7 without password.
Method 4. Reset HP Laptop Password via Factory Reset
Last but not the least, if all else fails, you can restore to factory resetting the HP laptop. However, similar to the first method of how to reset password on HP laptop without disk, this method will wipe your machine.
If you have a recent backup, then you won't lose much. Otherwise, if you have access to the computer, I advise you backup essential files (the steps below will include how to do this easily). Are you good to go? Let's get to it then. Here is how to reset admin password on HP laptop using the factory reset feature that comes with every Windows PC.
Steps:
Step 1: Reboot the computer. Imediately it starts up, press "F11" and continue pressing this key until you get into the options menu.
Step 2: The option menu is the starting point for your factory resetting. Next, you get to the "Choose and option" screen. Remember that this operation will erase your entire drive. Thankfully, Windows lets you back up your data before starting the factory reset. To back up your data, click "Keep my files" and then hit "Next." Skip this step if you already have a backup.
Step 3: Alternatively, if you already have a recent backup or simply do not need the data on your machine, you can save time by opting not to back up. For users who already have a backup and skipped Step 2, click the "Remove everything" option to continue without making a backup. It's faster this way because there's no backing up to be done.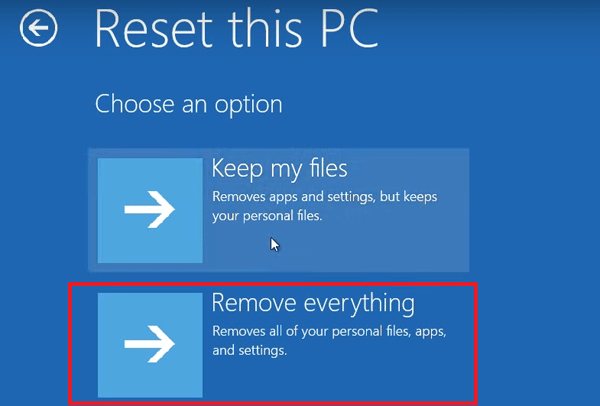 Step 4: If you choose to wipe your computer, you will get another screen that asks if you also want to clean the drives. Here, you can ask Windows to either erase only your files. This option is fast and advisable if you might want to recover them in the future. The other choice here is to delete everything and make the drive clean as new. This takes a longer time. Select an option here and proceed to the final step.
Step 5: Finally, you will get a warning, click "Next" to get the recovery operation underway. The factory reset will wipe your existing user accounts and passwords, and when it completes, you will be able to set up a new one then. If you asked Windows for a back up, in step 3 above, after the factory reset, you can find your backed up files from a folder in your local disk.
Step 6: Hit "Reset" when asked if you are "Ready to reset this PC?" This screen is merely there to warn you for what you already know – you will lose your files.
Step 7:To continue with the factory reset, highlight "Continue" and press "Enter". After this, your HP laptop will be factory resetted and you can then set a new password.
Conclusion
Windows Password Reset is what we use for resetting HP laptop password. If you are on a budget, you can try out the other superb methods here. Bookmark this page and refer to it whenever you need to reset a user account password on your HP computer. The guides in this post will not only work for HP laptops, they work on Dell, Toshiba, and every model of laptop, so far as it runs on Windows 10/8/7. With these, you now know how to reset Admin password on HP laptop.
Free Download
Buy Now(Pro)