Forgetting something important is quite a common phenomenon in the life of every human being. Windows login password is such an important thing and if you forgot laptop password, you're not alone. You, I and everyone else have faced such situations when we forgot such important things at the right moment when you need it.
No need to panic, though. There are several ways to bypass forgotten password on laptop. While some of the tricks are simple, some of them require your attention and time. No matter what route you follow, make sure to stick to the step-by-step procedures and don't do anything that you don't understand. This way, things will go smoother without causing any damage to the system.
Without further ado, let's check how to bypass password on laptop!
Method 1. Bypass Laptop Forgotten Password with Reset Disk
Using this feature, you can use a USB flash drive as a "key" to recover your access to the system in case you forgot laptop password. This feature is available on all the modern Windows operating systems including Windows Vista, 7, 8, 8.1 and 10.
However, in order to bypass laptop password using this feature, you must have created the reset disk prior to forgetting the password. If you didn't, then skip this part and consult the other methods.
Assuming that you have your password reset disk at hand, let's get started. For this demo, I'll be using my Windows 7 system. Once I forgot my laptop password Windows 7 and this method saved my life.
Grab your password reset disk and connect it to your system. Boot the computer and wait until you reach the login screen.
Enter a wrong password and generate the following error.
Once you click "OK", you'll be back on the login screen once again. However, you'll notice something different this time. There'll be passwords hints and a new button below the password field. Click on the "Reset password" button.
The "Password Reset Wizard" dialog box will pop up. Click "Next".
You'll be presented with a list of available USB devices hosting the special password reset disk file. Select the right one and click "Next".
The tool will ask for new password along with password hint. Fill them up accordingly.
Once complete, you'll see the following success message. Click "Finish".
Now you can log into your laptop using the new password.
Method 2. Bypass Laptop Forgotten Password with Windows Password Reset
Windows Password Reset is a really powerful tool that can reset forgotten local user and domain password on a wide range of Windows operating systems including Windows XP, Vista, 7, 8, 8.1 and 10. It also works on Windows Server 2000, 2003, 2008, 2012, and 2016. It's a super simple tool that even anyone can enjoy.
Free Download
Buy Now(Pro)
For general users, the "Professional" version is more than enough. However, for professional workplaces, other features can be considered. For the purpose of this tutorial, I'll be using "Professional" (trial) edition of the tool.
Assuming that you've lost access to your laptop, you'll need a different system to accomplish the method. The tool will create a Windows password reset disk using which you can restore access to your system.
If you forgot laptop password Windows 8 or any other Windows system, having this tool will save a great deal of time.
Step 1. Installing Windows Password Reset
Download the setup file. Run the setup file. The installation steps are pretty simple.
Step 2. Making a bootable media
There are 2 supported options: CD/DVD or USB flash drive. Use whichever suits you.
The first screen of the tool will offer 2 different options. In this case, I'll be showcasing how to make a bootable CD/DVD.
From the list, select the CD/DVD ROM that hosts the blank disc. Then click "Begin burning".
Wait for the process to finish. Once finished, you'll be presented the success message.
Step 3. Recovering access to your system
Connect the bootable media to your system. Select the device from the boot menu. Accessing the boot menu is different in different system, so you have to do your own research. As of the boot device, select the one you're using. In my case, it's the "CD-ROM".
You'll be presented with the following screen.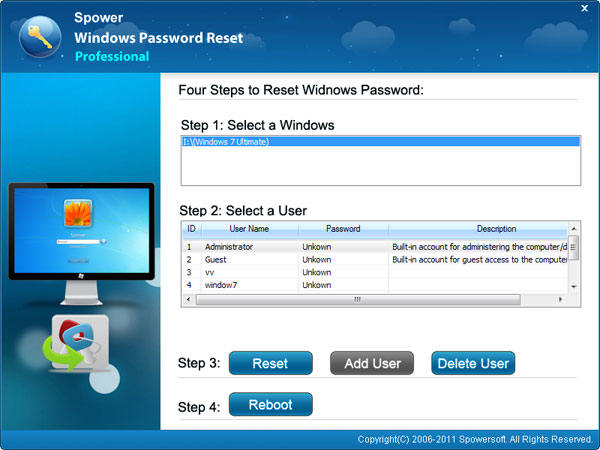 Everything is simple and self-explanatory. Here, "Step 1" is to select the right operating system (if there are more than one Windows installed).
At "Step 2", you're to select the user account you wish to perform actions.
Once you've selected the target user, you can perform 3 different actions from "Step 3": Reset, Add User and Delete User. Usually we choose "Reset".
Finally, at "Step 4", reboot the system.
When the warning message appears, disconnect the media device and click "Yes".
Now you can log into your laptop without password.
Method 3. Bypass Laptop Forgotten Password with Command Prompt
3.1. Simple version
If there happens to be other admin accounts present in the system and somehow, you have access to it, lucky for you! There's a simpler way to bypass password on your laptop. It's just a matter of running a single line command in the Command Prompt.
If your system doesn't have any other admin account and/or you don't have access to them, you have to go for any other method described in the article.
With that out of the way, let's get started!
Boot into the Windows and log into the admin account you have access to. In the following screenshot, "John" is another admin user while I'm locked from my "Viktor" account.
Once I'm in the account, run Command Prompt with administrator privilege. Search for "cmd.exe" (without quotes) in the Start menu >> right-click and select "Run as administrator". This is same across all the Windows operating system (at least, starting from Windows Vista and beyond).
When you're on the console screen, run the following command to reset the password for other account. In this case, it's the account "Viktor".
net user
Replace the field with the target account name and with the new password.
When you see the success message, reboot the laptop and log into the account using the changed password.
3.2. Nerdy version
What would you do if there's no other admin account in the laptop that has forgotten its password? You're pretty much locked out, right? Not so fast. There's a different way to bypass your laptop password. However, this is trickier. Focus and do every single step properly.
In this procedure, we need to rename some system files, reset the user account and revert back the changes.
Note: This method might not work in all cases. In the case of Windows 10, it's really hard to pull off. However, this seems to work fine for other Windows operating systems.
Ready? Let's get started.
Step 1. Renaming system file
1.1. Generic method
Grab an installation disk of your operating system. Make a bootable USB flash drive or CD/DVD and boot into it. The installation disk should be of the same Windows operating system. In this scenario, it's the Windows 7 installation disk.
Select the language, keyboard layout and time/currency.
Click "Repair your computer".
Select your Windows installation.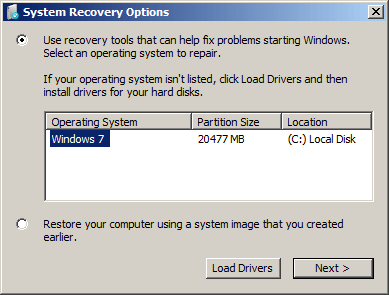 Select "Command Prompt".
1.2. Windows 10 special
Interrupt the boot process of the system unless you reach the following screen. Select "Advanced options".
Choose "Troubleshoot".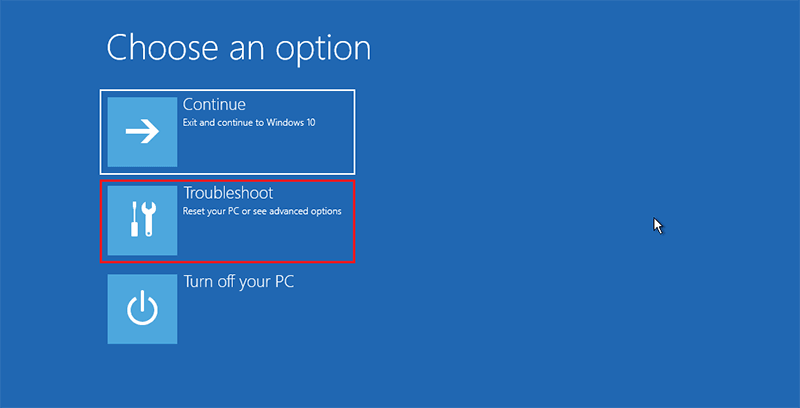 Select "Advanced options".
Click "Command Prompt".
Step 2. Changing password
Run the following commands. Generally, the installation is situated on the "C" drive. However, in my case, the OS is installed on "D" drive.
copy c:\windows\system32\sethc.exe c:\
copy /y c:\windows\system32\cmd.exe c:\windows\system32\sethc.exe
Restart your system and get into the login screen.
Press the "Shift" key 5 times in a row. It'll trigger the "Sticky Key" function. But in this case, the tweaks in the system file will force Command Prompt to open up.
Now, run the following command. Replace the fields with appropriate data.
net user
Step 3. Reverting back the changes
Don't forget to reset the changes! Boot into the installation media, get into the Command Prompt and run the following command.
copy /y c:\sethc.exe c:\windows\system32\sethc.exe
Method 4. Bypass Laptop Forgotten Password with Another Admin Account
Similar to the previous step, to execute this strategy, you need to have access to any other admin account on the laptop. This method is available in almost every single modern Windows OS.
Log into the different account on your laptop that has admin privilege. In this demo, it's the "John" account.
Press "Win + R". It'll fire up the "Run" tool.
Type "compmgmt.msc" and hit "OK".
You're on the "Computer Management" console.
Go to "System Tools" >> "Local Users and Groups" >> "Users."
In this case, it's "Viktor" we're going to change password of. Right-click and select "Set Password".
When the warning pops up, click "Proceed".
Enter new password in the fields accordingly. Once complete, click "OK".
The success message will pop up.
Now, restart the laptop and log into your original account using the new password.
Final thoughts
Depending on your situation, there are various ways to bypass password on laptop if forgot the password. By now, you may have mastered these handy methods. Although all these methods require manual attention, Windows Password Reset offers the most hassle-free way of achieving the goal. It's designed to suit anyone who's in need irrespective to their expertise. You get to do all the things from a single place with just a couple of clicks!
Free Download
Buy Now(Pro)