No matter how many times you try to access a locked Asus laptop with the incorrect password, it is never going to budge. Yes, you can count on that! That means, if you ever forget your login password, you could be in for one big sweaty occasion. However, you can still access your laptop by employing a couple of good measures which have a tutorial for how to unlock Asus laptop without password that have been tested and proven by users out there.
Thus, if you have been locked out of Asus laptop in the past, then you can take solace in what you about to read now. This article outlines four reliable ways on how to get into Asus laptop without password. Sounds amazing, right? See for yourself.
Method 1. Unlock Asus Laptop Password with Command Prompt
Right from the days of Windows 7, using the backdoor as a means of accessing a locked Asus laptop with your command prompt has been a very useful adventure. You should be glad that the Asus laptop is completely supportive of this feature even up to their latest product. Hence, this is how to bypass password on Asus laptop of this practical approach:
Step 1: As soon as you see your login screen, hold your "Shift" key down and at the same time, click on the power symbol, and click on "Restart".
Step 2: Choose "Troubleshoot" from the Advanced Boot Options window. After that, select "Advanced options", followed by "Command Prompt".
Step 3: Proceed with the list of commands below. They must be typed in that same order.
D:
cd Windows
cd System32
ren Utilman.exe Utilman.exe.old
copy cmd.exe Utilman.exe
Step 4: Restart your Asus laptop and when the login screen shows up, hit the utility icon. That will grant you access to command prompt. Finally, when the command prompt is up, you will need to include one last command so that your password can be successfully reset, which will help you gain access to your laptop.
net user Administrator Welcome@123
In the above command, Administrator represents username of the account you intend to access while Welcome@123 is representing the newly created password.
Now you can restart your Asus laptop and access your Windows with your new password.
Method 2. Unlock Asus Laptop Password with Password Reset Disk
This is another fascinating means of accessing an Asus laptop that has locked you out due to password inconsistencies. Although a great deal of people do not know how to unlock Asus laptop without password, a reset disk is one thing that can do the trick for them. However, there is a condition that underlies this approach: you must have used your laptop to create a reset disk for your password prior to getting locked out. Thus, the steps below will tell you how to bypass password on Asus laptop with a reset disk.
Step 1: Have your reset disk connected to your Asus laptop, and you would discover a link for "Reset password". Click the link and follow the wizard to reset password.
Step 2: Click "Next" the moment the reset wizard shows up in front of you.
Step 3: Choose the appropriate drive that contains your USB.
Step 4: A new page comes up afterwards requesting you to enter your new password. Click "Next" to proceed.
Step 5: A screen will eventually pop up indicating that you have successfully made changes to your user account password.
Method 3. Unlock Asus Laptop Password using Windows Password Reset
While the two methods described above are quite effective, Windows Password Reset is an even better solution concerning how to get into an asus laptop without password. This software is compatible with all versions of Windows from Windows 2000 to the latest Windows 10. It can be used to fetch all forms of passwords such as forgotten passwords, password for Microsoft account, as well as domain passwords. In addition to the fact that this software has no limitations whatsoever regarding password recovery, it will only take you minutes to log back into your system the moment you realize you cannot log in. Follow the instruction below to get started with this software on how to unlock Asus Laptop without password.
Free Download
Buy Now(Pro)
Step 1: Download and try installing it on a computer that is not locked out.
Step 2: Launch the software and choose your preferred media type for creating a reset disk. Click on "Begin burning" after you've selected a media type.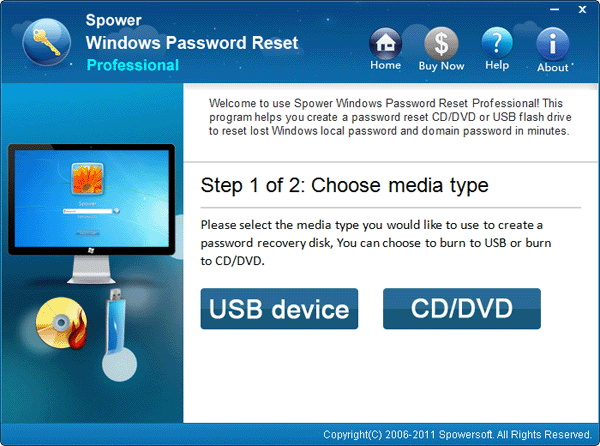 Step 3: Go back to the locked Asus laptop and set it to boot from the USB drive or CD/DVD-ROM.
Step 4: Boot the locked Asus laptop from the reset disk you have just created with the Windows password reset software.
Step 5: Windows Password Reset is ready to reset password.
Step 6: Choose a specific Windows system.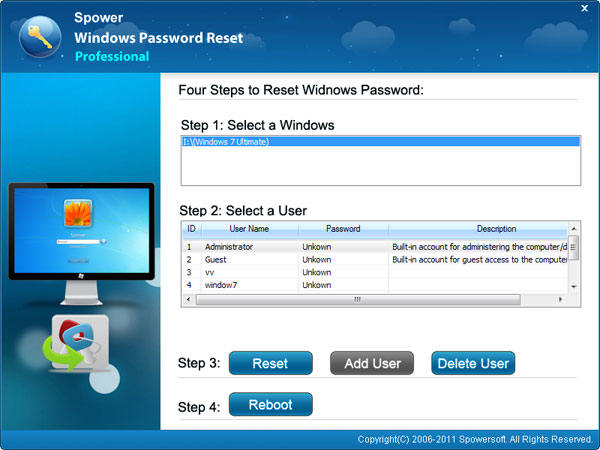 Step 7: Choose a user.
Step 8: Click on "Reset" to have that user account password reset. For 2000/XP/Vista/Win7/Win8/Win8.1/Win10 versions of Windows, the password will be reset to a blank one (no password), while for the 2000/2003/2008/2012/2016 versions of Windows server the new password will be Spower@2011.
Step 9: Click on "Yes" on the next prompt to complete the process and log into your Asus laptop with the reset password.
Method 4. Unlock Asus Laptop Password with Microsoft Account (Windows 10/8.1/8)
Some persons prefer to login into their Asus laptop through their Microsoft Account. Actually, it is a more reliable way of securing the data in your PC. However, the question that has been on the lips of many is – what will be done when you get locked out of Asus laptop because you forgot your Microsoft login credentials? Well, if you are experiencing that right now, this is what you should do to reset Asus laptop password:
Step 1: Whenever you try to log into your computer through Microsoft account, and you fill in the wrong login parameters, it will return with an error screen that looks exactly like the one below:
Click on "OK" to get started!
Step 2: A link that states "I forgot my password" will appear beneath your password box. Click on that link.
Step 3: After a while, a screen that will come up requesting you to reset your password. When you are through with all the steps, you can then sign in into your Asus laptop without your new created Microsoft account password.
Or you could open up a browser on any functional smartphone or computer and visit account.live.com/password/reset. Select the "I've forgotten my password" option click "Next", and get on with the on-screen instructions on how to reset your password.
Conclusion
You most likely read through this article because you have experienced a lockout on your Asus laptop. More importantly, you must have understood that there are practical and easy steps like the ones highlighted above for accessing a locked Asus system. You can employ any of the above approaches and experience how to bypass password on asus laptop without having to go through any particular stress. Three out of the four methods talked about in this article involve pretty basic steps, which make them suitable for just about anyone. Just engage any of the methods you feel will be most appropriate for you given your knowledge of computers and personality.
Free Download
Buy Now(Pro)