If you are reading this post, you are probably looking to learn how to reset Dell laptop password without disk, and that what you will get from this article. The first thing you should do now is to relax and read this guide to the end.
You have nothing to worry about because there are numerous ways to do this. Here, you will learn about the four best methods to do a Dell laptop password reset for Windows 10/8/7 and below.
Method 1. Reset Dell Laptop Password with Another Admin Account(Windows 10/8/7)
The first method we will treat is the most straightforward way to perform a Dell laptop password reset Windows 7, 8, and 10. On the inaccessible machine, if you have multiple accounts with Administrator privileges, then you can use a different Admin account to reset the forgotten password for the troublesome user account. Here's how you do this:
Step 1: Logon to Windows using the credentials of another administrator.
Step 2: After getting in, press the Windows key and "R" together and then enter cmpmgmt.msc. This launches Computer Management after you hit "Enter".
Step 3: From the list, expand "System Tools" and navigate to "Local Users and Groups" > "Users" to see the users on the computer.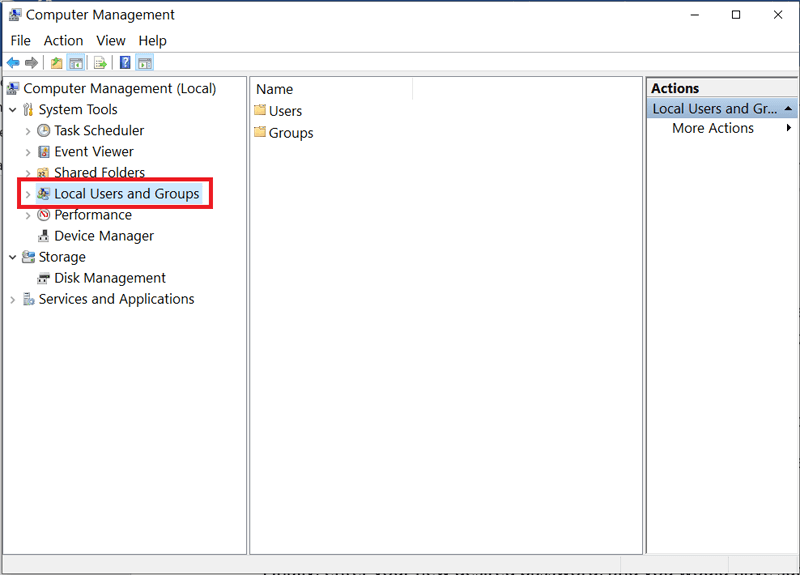 Step 4: Find your username, right-click on it, and click "Set Password".
Step 5: Lastly, restart the computer and you can now log in using the new password.
Method 2. Reset Dell Laptop Password with Microsoft Account(Windows 10/8 Only)
You can do a Dell laptop password reset Windows 10 or even reset Dell laptop password Windows 8, by using a Microsoft account. However, this method would only work if you secured your Windows with such an account.
Steps:
Step 1: On your Windows login screen, hit the "I forgot my password" link. Next, solve the captcha code and click "Next".
Step 2: Before long, you will see the Account Recovery window. After this, you need to verify your identity by completing your email ID from the one partly displayed on the screen. Next, click "Send Code".
Step 3: Microsoft sends you an email with the code, so get it from your email inbox. Come b/ack, paste this code, and hit "Next".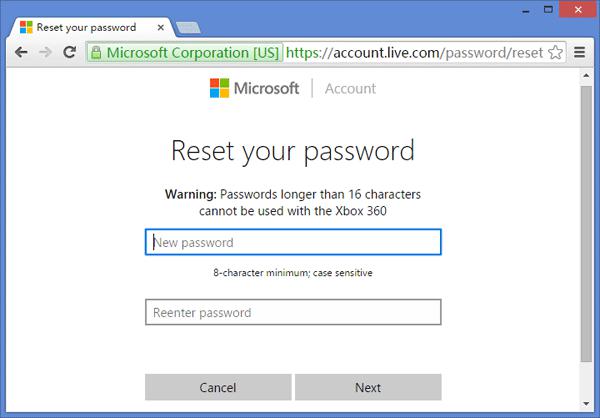 After clicking next, you will see the above screen. Enter your new password, click "Next", and you can now log in Dell laptop using the newly created password.
Method 3. Reset Dell Laptop Password with Windows Password Reset (All Windows)
Now, this is a tool that has saved me countless headaches and hours. Windows Password Reset is a complete password reset solution for ALL Windows versions. What else? This fantastic software can also create Admin accounts and delete users if need be, without needing to (or if you cannot) log into Windows. Using Windows Password Reset, within minutes, you will have full access to your system.
Key Features:
Reset the password of Microsoft account on Windows 10 and Windows 8/8.1.
Create Administrator accounts even without being logged into the computer.
Delete a user account without logging into Windows.
Using Windows Password Reset, you can create and use a CD, DVD, or USB drive to reset your Windows password.
No compatibility challenges with other Windows versions.
Easy to use – in broadly just 3 simple steps.
How to use: a step-by-step guide:
Step 1: Download Windows Password Reset version and launch it on a workable Windows computer. You can download it by clicking the download button below.
Free Download
Buy Now(Pro)
Step 2: After launching the program, you then create a password reset media using a CD, DVD, or USB drive.
You will be asked to "Choose your media" , so, click either "USB device" or "CD/DVD", depending on what you want to use.

For CD/DVD, insert a blank, writable disk and hit "Begin burning" .
To make a USB Windows password reset drive, click USB, insert the volume and click "Begin burning".
Please perform step 3 and step 4 on the Dell computer for which you wish to reset a password.
Step 3: Following the steps below, configure the locked Dell laptop to boot from the CD/DVD or USB password reset disk you just created.
Turn on your machine and get into your BIOS. This site shows you your BIOS entry key.
In BIOS, move your cursor to the "Boot" tab with the keyboard's arrow keys. In the boot tab, scroll till you locate the password reset disk.
While the disk is highlighted, press the "+" and "-" keys to change its priority. Continue until your selected media is at the top of the list.
Press "F10" to save your settings. Next, exit BIOS.
Step 4: After changing the boot order, plug your USB drive or insert your disk on the locked machine and boot it. Here, make sure that your computer boots from the password reset media.
Step 5: Follow the mini-guide below on how to reset Dell laptop password.
On starting up, Windows Password reset will load. On the first screen, select your Windows system.
Select a user account on the "Step 2".
Next, hit "Reset" for the user you selected in the last step.
Lastly, unplug or eject your Windows password reset disk and click "Reboot" to finalize the operation and restart your machine.

Method 4. Reset Dell Laptop Password with Ophcrack (Windows 7/XP/Vista)
This Dell laptop password reset tool is a free alternative to the recommended Windows Password Reset, but it doesn't fall way behind. Ophcrack runs on multiple platforms, has a graphical user interface, and resets passwords using rainbow tables.
However, it's not all roses and gold with Ophcrack; it does have some limitations. First, to make use of this utility, you must download the LiveCD. This LiveCD takes up a massive around 649MB of your local disk. That's not all; after downloading the LiveCD, you also need to find and download additional software to burn this LiveCD onto.
Also, some antivirus programs can identify Ophcrack as a malware or virus, so you have to disable your antivirus to use it. Another downside to this utility is that it cannot reset passwords of more than 14 characters. I won't go into too much geeky stuff, but know that Ophcrack's implementation of rainbow tables is robust and efficient.
Features of Ophcrack:
You can brute-force simple passwords.
It allows you to analyze passwords using real-time graphs.
Simple password cracking with the LiveCD.
CSV reports and audit mode.
Completely free of charge.
Works on multiple platforms.
How to use Ophcrack to reset password on Dell laptop:
Step 1: To use this utility, you will need a LiveCD, so to create one, you first download the LiveCD ISO from its download page.
Step 2: From the list of available versions, click "ophcrack Vista/7 LiveCD" because you are downloading the one that is compatible with your Windows version.
Step 3: Save the ISO file in an easily accessible location like your Desktop.
Step 4: Now, you burn the downloaded LiveCD ISO to either a USB drive, CD, or DVD with sufficient free space.
Step 5: Next, insert the USB or CD/DVD into the computer you want to work on and reboot the machine.
Step 6: The Ophcrack LiveCD menu will appear on your screen. Just wait for the program to work in the background.
N/B: If the LiveCD menu does not appear, it could mean that Ophcrack loaded with errors, or you did not download a good copy of the ISO. When the LiveCD menu shows, continue to step 7 to finalize the Dell laptop password reset.
Step 7: Ophcrack now prepares to reset the laptop password. All you will see are white texts running down the screen; these texts are details of what is going on behind the scenes.
Step 8: After the last step, if you observe your screen, you should see a confirmation that your password is detected on the machine.
Step 9: The last display does not last. When that disappears, Ophcrack then begins to retrieve passwords from your computer automatically and arrange them in columns. The usernames are under the "User" column and your passwords under the "NT Pwd" column. If a column says "empty", no password was set for that account.
If you can't reset Dell laptop password with this method, you can try to factory reset Dell laptop without password so you can log into your Dell laptop, but it will erase all your data, we strongly recommend you try the Windows Password Reset first.
Conclusion
At the beginning of this article, I assured you that you would have nothing to worry about after going through this guide, and you will have your Dell laptop right back. You now know how to reset Dell laptop password using four different methods, and you can pick anyone you want. They all work perfectly, but you can't go wrong with Windows Password Reset.
Free Download
Buy Now(Pro)