Are you one of them who are discovering how to unlock a Windows 10/8/7 laptop without a password? No more worries to you, I will show you how to unlock a password protected laptop using a few simple tricks.
Forgetting your laptop password is the most terrible fear that one can have. On the other side, securing your laptop with a password also can not be ignored. If you protect your Windows 10/8/7 laptop with a strong password to make it inaccessible, there is an equal chance of forgetting it. So, there is no need to worry in case, if you forget your laptop password because there is always a solution to every problem.
It has been observed that more than a thousand people search "how to break laptop password" or "how to open laptop without password" every day. Feeling the necessity of the topic, I am going to explore some of the unique and 100% working ways to sort out the forgot laptop password problem.
Method 1. Unlock Laptop Password with Microsoft Account(Windows 10/8.1/8 Only)
For those who are using the latest versions of Windows likewise Windows 8/10, Microsoft provides them the facility to sign in to their laptops in numerous ways. One of the ways to get into the Windows is by signing in through your Microsoft account. As we all know, Microsoft's account password consists of 8 or more characters including special characters, alphabetic letters, and numbers. So it is hard to remember such a complex password and sometimes it causes the forgotten laptop password situation.
But it is good to use Microsoft account password to sign in to Windows because it makes your laptop more secure and easy to recover the password in case if you forgot it.
There are two ways to regain access to your laptop if you have forgotten your Microsoft account password.
Sign in to the laptop with another account or local account.
Reset your Microsoft account password.
Sign in using another account
If you are in an emergency and can't waste your time resetting Microsoft's account password then the easiest way to access your laptop again is, just switch your log in account from Microsoft to local, perform your activity and later you can reset your Microsoft account password.
Reset Microsoft Account
Resetting your Windows 10/8 password through Microsoft account is by far the easiest way to get out of the forgotten password state. There was a time when losing a Windows password was a real problem but thankful to Microsoft they made this very easy for us and now, it can be done in a few minutes.
All you need is a good internet connection and a device where you can perform a search. To unlock your Windows 10/8 laptop password using Microsoft account, go to the Microsoft's live website. The link is pasted below.
https://account.live.com/password/reset
You can also find this URL on your Windows screen when choose to Reset the Microsoft account password option after losing it.
However, the link will take you to the password reset page. On the very first screen, you will be asked to Enter Email, put the mail and then click on the "Next" button.
To make sure that the email you provided is your own or a fake one, Microsoft will ask you to verify your identity. To verify their concerns regarding security, you can choose the email or phone number option to get the security code.
After selecting one of them, you can continue the process by clicking on the "Get Code" option and it will send the security code straight away.
Check your Gmail or whatever mail platform you are using. There, you will see a mail from the Microsoft team, open it to see the security code.
Copy the code from your email and paste or type it to the Enter Code option. Simply click "Next".
Now, its time to make changes in your account. Enter the new password twice and click on the "Next" option.
That's it, you are done with the password change. You will see a success message on your screen stating that you have successfully changed the password.
Now, you can use this password to sign in to your Microsoft account. Go to the locked laptop and enter your Microsoft id with the recently changed password and your Windows 10/8 will allow you to enter into the laptop where you can continue your work.
Did you see how much Microsoft has made this easy?
If you are Windows 7 user or logged into your Windows 8/10 laptop through a local account, no problem at all, to deal with this situation, read the comprehensive guide right below which will absolutely help you in restoring your Windows 7/8/10 laptop password.
Method 2. Unlock Laptop Password the Hidden Administrator Account
As mentioned above, if you don't have Microsoft account then the above method is not of your type but it doesn't mean to lose hop. You may know that up to Windows 7 there was always a hidden admin account that is normally hidden from normal users but you can enable it.
The only condition to unlock your Windows 7/8/10 laptop password through this method is you must have enables the Windows hidden administrator account otherwise it is ineffective. If you couldn't active your hidden admin account before getting locked out of the system, unfortunately, this time you would have to adopt another method but as a precaution, you can activate your hidden administrator account by using the below command to prevent from future loss.
net user administrator /active: yes
To run the command, always make sure that you are running the cmd with administrator privileges otherwise it will give an error.
The image below also explains the function of this command. See the message after running the command on your command.
The successful completion of the command shows that the hidden admin account is enabled and now you will see two admin accounts while logging into your laptop. You can enter into the default admin account even without entering any password.
The thing to remember is, in general scenarios, I never recommend you to turn on this feature because anyone can access your personal information using the default account. But if you are completely sure that there is no one except you to act like this then you this method is very beneficial in case, if you ever forget your Windows 7/8/10 password.
To unlock your laptop password using the hidden administrator account, click on the Administrator account from the left-bottom instead of your main account. Wait for the restart and you will be logged into a hidden account without any password.
Here, you can make changes into the main account whose password is forgotten. From the main screen, right-click on the "This PC" option and choose the option of "Manage" among the list of different actions.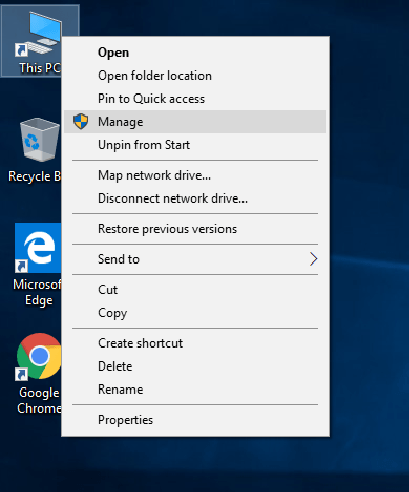 It will ask you to hit "Yes" to confirm that you want to run the command with admin privileges. As a result, the Computer Mangement's menu will appear on the screen so that you can make changes into it in order to unlock the laptop password.
Expand the "System Tools" menu to see the "Local Users and Groups option". If already expanded, then simply click on it.
Among both options, choose the "Users" option to proceed.
Finally, we have reached the point where we can do major changes to our laptop's active accounts. Choose the locked user account or main admin account whose password you are going to remove.
Right-click to explore further options. Where you can clearly see a "Set Password" option, hit that mark and all is done.
As usual, Windows will warn you through prompting a confirmation message. You can click on the "Proceed" option to unlock your Windows 7/8/10 password.
Its time to enter new login details including a new password. To change the password, Enter the new password details twice in both fields.
After filling the password fields and making sure that the password you enter is similar to each other. Press the "OK" button and you will see a success message on your Windows screen indicating that the Windows password is successfully associated with the new one.
Now, log in to your Windows and use the newly settled password and it will definitely allow you to get enter into the laptop.
Method 3. Unlock Laptop Password with Windows Password Reset
Windows Password Reset is a comprehensive recovery solution that is most often used to unlock the password of the Windows-based operating systems. This marvelous password retrieval tool is specially designed to restore the login/admin password regardless of the Windows version you have installed on your computer. This user-friendly and efficient application can easily create a bootable USB flash drive or CD/DVD disk and then grant you the ability to open laptop without password.
Free Download
Buy Now(Pro)
Features:
Requires only 3 simple steps to restore Windows 7/8/10 forgotten or lost password without reinstalling Windows and without Data loss.
Offers two different techniques to generate a bootable password reset disk, CD/DVD disk, and USB flash drive.
Permanently delete or reset Windows administrator account and user account password for local accounts.
Support all the latest as well as older Windows 10, 8.1, 8, 7, Vista, XP, 2000, etc.
How does it work?
Download and install Windows Password Reset on an accessible computer or laptop so that you can create a password reset disk. After the download is completed, run the software on your Windows operating system. You would also need a USB drive so that you can create a reset disk. To do this, get an empty USB drive and connect to the accessible laptop/computer.
Although both options do the same, however, I will recommend the USB Drive if you are following this article and I think most people prefer to use USB drive because it seems easier but I want to make a correction here, there is no difference between both.
To continue with the USB device, click on the first option that is a USB device.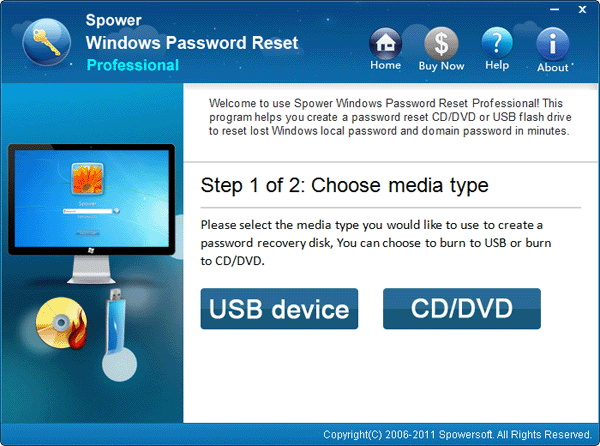 Whatever you select among them both, choose that specific media device from the dropdown menu and click on the Begin Burning feature so that it can create a password reset disk.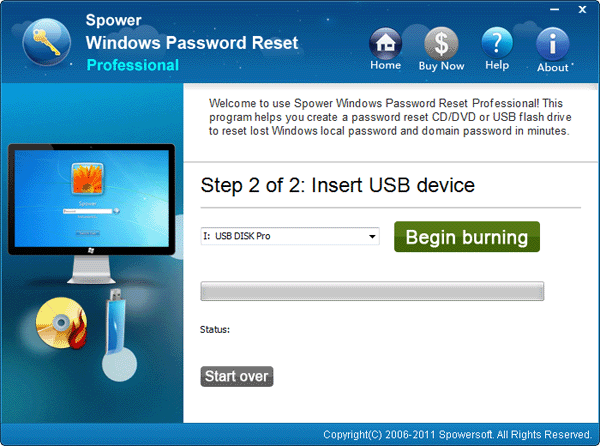 When you see the success prompt and find the status ready, it means you can now use this drive to reset the Windows password.
Connect the booted media drive to your laptop and restart or turn on the laptop. Press the bootable key from your keyboard according to your PC brand, mostly F9 or F12 (might be changed in your case). From the boot menu, choose the recently created bootable disk drive so that it can take you to the recovery process.
Here, you will see the main screen of Windows Password Reset. Nothing to do, just choose the username who had the admin privileges and now locked out. Then choose the operating system among Windows 7/8/10 (which one is currently installed on your computer).
After doing these things, you can click on the "Reset" button to get rid of the forgotten password and it will remove the previous password within seconds.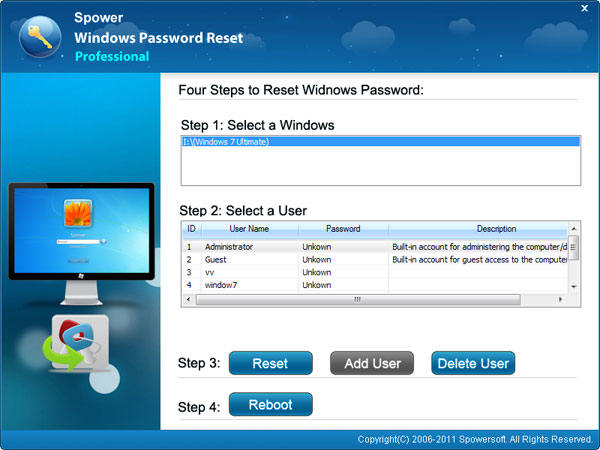 To confirm the changes, press the "Yes" button and it will save the settings.
Reboot the operating system and after that, you will be able to login to Windows 7/8/10 without any password.
That's how you can unlock laptop password using a Windows Reset Tool.
Method 4. Unlock Laptop Password with Ophcrack
Ophcrack is a free but very efficient and effective Windows password cracker to unlock Windows 7/8/10 laptop passwords. This recovery software is capable to produce a live USB disk and then burn the ISO image file to retrieve the forgotten Windows 7/8/10 password. It takes only a few minutes or seconds (usually for simple and normal passwords) to recover the lost password and display them on the screen.
Features:
A great utility, available for free to recover Windows 7/8/10 passwords.
Software's interface is very graphical and inviting.
No software installation is required.
Even without knowing a single hint from the previous password, there are 99.9% chances that it will perfectly retrieve your Windows 7/8/10 lost password.
Supported Windows Platform:
All Windows versions like Vista/XP/7/8/8.1/10 and Windows Servers are supported by the latest version of Ophcrack.
How does it work?
Only think to break your Window password when you are 100% sure that you have completely forgotten your Windows 7/8/10 password and there is no hope of it to come back. For this, you can use another computer or laptop of your friend or family member to create a password reset disk.
To download the latest version of Ophcrack, visit their official website. For Windows, it would be better to choose the Download ophcrack LiveCD option. Nowadays, the latest version is 3.8.0 but you can choose according to your ease.
To burn the .iso image you just downloaded from the website, you can use any iso image-maker. I am using the ISO2Disc but you can use a different one keeping in mind that they all do the same. You can download this utility from the internet, install it on the computer and run the application. To create the bootable reset disk, drag the iso image file into the application area and it will be ready to start its job. From the menu, make sure you have chosen the "MBR" option for the partition and hit the "start" button.
Now, you are ready to start the password recovery process so, enter the Ophcrack's Live USB/CD into the target operating system and click on the "reboot" button. After getting out of the boot menu, the Ophcrack password recovery program will appear on the screen with an interactive graphical interface.
Ophcrack's LiveCD will be selected by default, simply hit the Enter button to proceed.
That's it, it will immediately start to find your Windows 7/8/10 lost password and the time required depends on the length or number of characters of your password. So don't lose your patience in case, it takes longer to bring the result or finding your password.
As soon as the process finishes, you will see the forgotten password on the Ophcrack's window. You are good to access your Windows 7/8/10 laptop with this recovered password after applying a restart to it.
Conclusion:
Finally, you are able to unlock a password-protected laptop on your own by applying these few hacks. Once again, I recommend you to use Microsoft Account for your login so that you easily manage these kinds of troubles but if you prefer a Windows password recovery software then I will highly recommend Windows Password Reset to easily get rid of this state.
I hope this post really proved you as a treasure to find quick solutions for how to unlock laptop password. Still wondering to know something that was not the part of the article? Leave a comment regarding your problem and we will try to answer you as soon as possible.
Free Download
Buy Now(Pro)