When someone forgets the password of the laptop it really is something very difficult thing to retrieve. It is one of the characteristic of Samsung laptops that when someone puts a wrong password and tries to unlock the laptop, you will be locked out of Samsung laptop for few hours. When someone puts the right password, only at that point of time the user of the Samsung laptop can access the files and documents of the laptop, the user is unable to access the stuff of the laptop if the user has entered wrong password.
When someone puts the wrong password, and he realizes that it would be impossible to login in to the Windows. The user only feels that the only option that can help the user is to reinstall the Windows where there are also chances that the data can be deleted as well. There are two ways which can help to unlock Samsung laptop password. These solutions are not that much tricky. The solutions for how to reset Samsung laptop password are as follows:
Method 1. Unlock Samsung Laptop Password by making the use of CMD
Command prompt can be used to reset the password if account added to the Samsung laptop does not have administrative rights. There are different methods to make the use of command prompt in the Windows which are locked. Safe mode can be used and on the other side bootable Windows disc can also be used to access the command prompt option.
Safe mode may require authentication so bootable Windows disc is appropriate one to use. Following are the steps to use this:
Step 1: Insert bootable Windows CD/DVD.
Step 2: After inserting the CD/DVD, restart computer and an option to boot from disc will appear. Any key can be pressed to boat.
Step 3: After that, Windows installation Window option can be seen. Click next and after that click on "Repair your computer".
Step 4: Click installed Windows click on "next". In system recovery options, one can see the command prompt. To start CMD, click on it. To change "Ease of access" option with CMD, type the following command.
cd C:\Windows\System32
ren utilman.exe utilman_bak.exe
copy cmd.exe utilman.exe
exit
Step 5: After this, off the computer and remove the disc. Then start the Windows now and on the login screen, select "Ease of access" option. After clicking one can see the Command Prompt window.
Step 6: Enter these two command lines to reset the password.
net user "YourUserName" "NewPassword"
For Example – the username is Samsung. And, user wants to set 12385797 as new password. So, this is the command that user needs to enter. Example Command – net user Samsung 12385797
In order to close the command prompt window, type exit and press enter. This the way for how to reset Samsung laptop password and the new password could be entered now.
Method 2. Unlock Samsung Laptop Password with Windows Password Reset
Perhaps using CMD reset is quite complex or not suit for your case. Here will introduce a way to unlock Samsung laptop password with Windows Password Reset for 100% password reset rate in few easy steps.
Step 1: Download Windows Password Reset
(Professional, Ultimate, Special, Raid) and then the user can install it in an accessible Windows computer under different Windows OS e.g. 2000/xp/vista/7/8/8.1/10 and Windows Server 2003/2008/2012/2016.
Free Download
Buy Now(Pro)
Step 2: Create a password for window reset
Windows Password Reset assists the user to create a USB or CD/DVD Windows password reset disk simply. The user needs to Click the "USB Device" or "CD/DVD" button to select password reset disk type.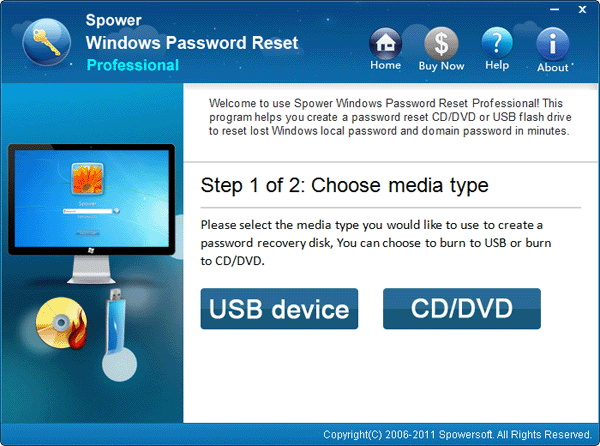 In order to create a CD/DVD password reset disk, the user need to insert writable CD/DVD disc and click on the option "Begin burning" to create a CD/DVD password reset disk.
For creating a USB password reset disk, the user can insert USB Flash Drive and then click "Begin burning" to create a USB password reset disk.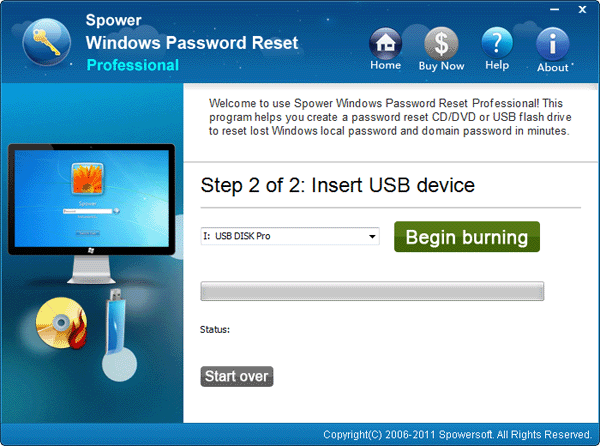 Note: step 3, step 4, and step 5 are completed on the computer of which password needs to be broken.
Step 3: USB drive or CD/DVD ROM are then used to boot the locked computer.
Step 4: The locked Samsung laptop is then boot from Windows password reset disk:
Windows password reset disk is inserted to the locked computer, and then the user can restart the locked computer, while the Samsung logo shows, press "F12" to enter boot menu.
Then choose to boot from USB drive.

Step 5: When Windows Password Reset startups and is ready, follow the instructions to reset Windows password.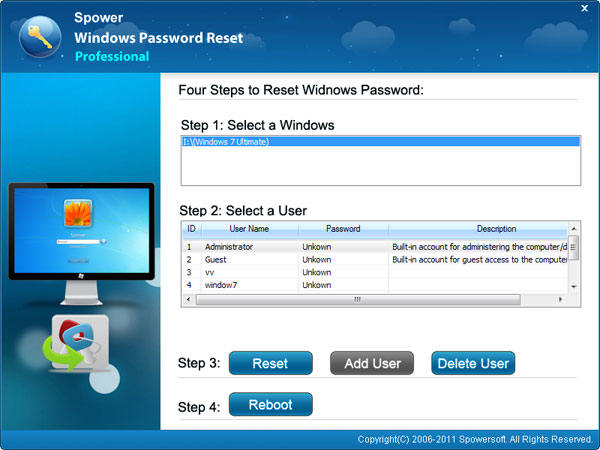 Choose Windows system.
Choose a user.
Click on the "Reset" button to reset password for user which is chosen.
Note: One thing to remember is that In Windows 2000/XP/Vista/Win7/Win8/Win8.1/Win10, the password is be set to blank (empty password). In Windows Server 2000/2003/2008/2012/2016, the password is be set to Spower@2011 by default.
Samsung laptop will be restarted after clicking "Reboot".
When the screen shows the following caption, eject Windows password reset disk, and then click "Yes" to restart locked Samsung laptop.
After rebooting, the user can log on to locked Samsung laptop Windows with new password.
Method 3. Unlock Samsung Laptop Password with Ophcrack
Ophcrack is the common version for breaking password, which is very convenient and effective way considered. But a few of drawbacks are there for using this. One of the drawback it has, that it is not convenient for Windows 10, 8.1 and Windows 8. Some of the users might try this in Windows, but most of the times they are unable to recover the account. On the other side, if the user is using Windows 7 or lower in their Samsung Laptop, then there are maximum chances that they can reset their password. Following are the steps for making use of Ophcrack Live CD.
Note: The first 3 steps written below are to be done with different computer, as the user will be unable to access his Samsung laptop, so he must make the use of another laptop. Just there is a need to have Ophcrack version that is suitable for the Samsung laptop.
Step 1. Download Ophcrack Live CD from the link below:
http://Ophcrack.sourceforge.net
Step 2. After clicking the link, the user can select the appropriate version which he wants for his Samsung Laptop. Each and every type of Windows, Xp, window 7 have separate versions.
Step 3: Download and launch Ophcrack Live CD. The user must burn the ISO file to USB Drive or CD/DVD to make a bootable media. As soon as the media is burned, make it remove from the other PC and then attach it to the Samsung laptop.
Step 4: Start boot process of the locked Samsung laptop, then press the special key that takes the user to boot menu. This special key can be "Esc", "del", or "F2". After pressing the special character key, a new setup will be automatically start working.
Step 5: After doing this, there is nothing to do by the user. The automatic mode will open, and a countdown timer will initiate the process, if no key is pressed. After that, the user will see some text appearing on the screen, and Ophcrack finds the place for Windows Installation. After this process, a popup will appear, which will be the confirmation that both the user account and password are recovered. A column will appear which says "NT Password" or "NT Pwd".
Step 6: The user must write that password somewhere, and should not lose it. After that the user must restart his laptop, after the laptop is restarted, the user should enter that password in to his account which is locked.
If you don't want to reinstall or restore Samsung laptop to factory settings, you will try these 3 methods, they can help you.
Conclusion
The different methods that have been described above for how to reset Samsung laptop password have significance. These are the commonly practice that is used by the users who get their accounts blocked. Care must be taken while doing work on laptop. But there is no need to get panicked if someone has unintentionally got his Samsung laptop account blocked or forgotten. The above solutions are authentic and genuine and have been used in an effective way. One of the most authentic and genuine method that is used is Windows Password Reset tool which is a very convenient and easy method to follow. As compared to other methods, this method is easy. Apart from that this method is suitable for all the Windows.
Free Download
Buy Now(Pro)