Organizations can utilize the back-up abilities of the product to shield PCs from information lost, just as use the restore method to recover the operating system. Usually, laptops don't accompany recovery discs anymore, however, Sony VAIO Laptops are available with the VAIO Recovery Center or VAIO Care. It is an application that will help the laptop user in restoring and recovering the hard drive in case of malware contamination or other operating-system failures. It is a convenient and quick way that empowers clients to format their system without a recovery disc. Likewise enable administrators to make backups of the hard drive, reinstall applications and drivers, and restore the laptop operating system. In the event that Windows is corrupted, tainted with malware or its performance is low, you can reformat Sony VAIO laptop to factory settings or improve execution. Some VAIOs have VAIO Care, while different models have VAIO Recovery Center.
Once in a while, we might need to format our Sony VAIO PC to begin once more or need to format the hard disk or the entire laptop to set up new partitions. In this article, we guide you on how to format Sony VAIO laptop and format VAIO laptop without CD in different ways.
Method 1. Format Sony VAIO Laptop Windows 10/8/7 using Assist Button
Sony VAIO gives a pack of care tools with its laptops including recovery tools. These tools help users to secure their Sony VAIO laptops from malicious bugs and also use them to format the laptop. It enables clients to configure firewalls, antivirus, and other security tools. It routinely backs up their information in specific protected locations. Also, have an "Assist" button that will help you to format the Sony VAIO laptop using VAIO Care and VAIO Recovery Center.
If you want to know how to format sony laptop using the assist button then follow the beneath steps;
Step 1: First of all, turn-off the laptop using the power button. Press and hold it until the laptop is turned off.
Step 2: Now start the system and press the "Assist" button (Assist button location is different on different models).
Step 3: This action will open the "VAIOCare | Rescue Mode"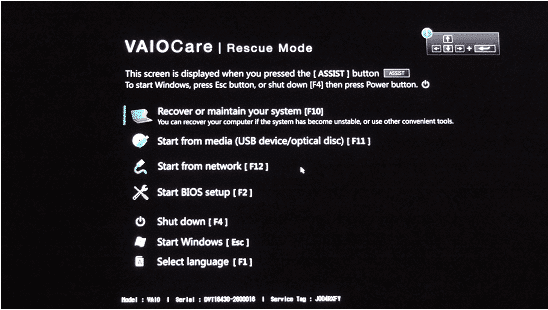 Step 4: Different options displayed in a list with keys names in front of them. For choosing the "Recover or maintain your system" option, press the "F10" key.
Step 5: Now it will ask your preferred keyboard layout for further procedure. Click on your preferred keyboard.
Step 6: In the "Choose an option" list, click on the "Troubleshoot" option.
Step 7: Now choose the "Recovery and maintenance" option.
Step 8: A list of Windows shows, choose your Windows 7, 8, 8.1 or 10.
Step 9: Now "VAIO Care Rescue" options will be open, choose "Start Recovery Wizard" from it.
Step 10: It will ask you to confirm rescue your data and choose the option "Yes, I'd like to start rescue now".
Step 11: For saving your data using an external hard disk. Connect the external hard disk and choose "Easy Rescue" under Rescue types. It will automatically backup your data or you can choose manually location by choosing "Custom Rescue".
Step 12: Your drive will show in a window, choose it and click on the "Next" button.
Step 13: Now click on the "Start Rescue" button.
Step 14: Under the "Rescue has completed successfully", click on the "Next" button.
Step 15: It will ask you that are you sure! Do you want to start recovery? Check the box with the message "Yes, I'm sure", and click on the "Start Recovery" button. Your system will be restarted many times.
Step 16: Now restart the computer by clicking the "Restart" button and continue the recovery.
Method 2. Format Sony VAIO Laptop through VAIO Recovery Center
Sony VAIO laptops also can be format through VAIO Recovery Center. So, you can format Vaio laptop without cd with the recovery center by following beneath steps;
If Sony VAIO Boot Not Normally
Step 1: If your Sony VAIO laptop can't boot normally then restart your system. Press "F10" key again and again. Until VAIO logo has appeared.
Step 2: Edit Windows boot options for VAIO Recovery Center appears, press the "Enter" key to start it.
If Sony VAIO Can Boot Normally
Step 1: Click on the "Start" button, open All Programs. Now choose the "VAIO Recovery Center" from the list to start the tool.
Step 2: VIOA Recovery Center will be open. Now choose the "Restore Complete System" option from the left menu. Then click on the "Start" button.
Step 3: Before restoring the complete system, you should choose the option "Restore C Drive" and then click on the "Next" button.
Step 4: Now it will give warning, read it and choose "I understand". After it, click on the "Start" button to start the repairing of the C partition. It will reformat the C partition and windows will be reinstalled. Your laptop will configure on factory settings.
Tip: Reset Sony VAIO Laptop Password with Windows Password Reset If Forget
If you didn't want to use the above methods then the best option to reset forgotten password is Windows Password Reset tool. Its use is very easy for resetting the Windows forgotten password. You can create or delete a new account without logon to Windows with the help of Windows Password Reset. Don't worry about the data security because the tool will reset the password with the bootable USB or CD/DVD drive. It is a guaranteed malware-free tool. It is supported all the versions of Windows 10, 8, 7, XP and servers including Sony but HP, Lenovo, Dell, IBM, and Fujitsu, so on also.
Follow the below steps to reset password on Sony VAIO laptop through Windows Password Reset:
Step 1: Download and install the Windows Password Reset. When you start it, you will see two options to make the Reset disk for resetting the password.
Free Download
Buy Now(Pro)
Step 2: Reset through the CD/DVD then select the disk from the first option and click on the "Burn to CD/DVD" button.
The second option is to reset through a USB drive. Select USB from the second option and click on the "Burn to CD/DVD" button.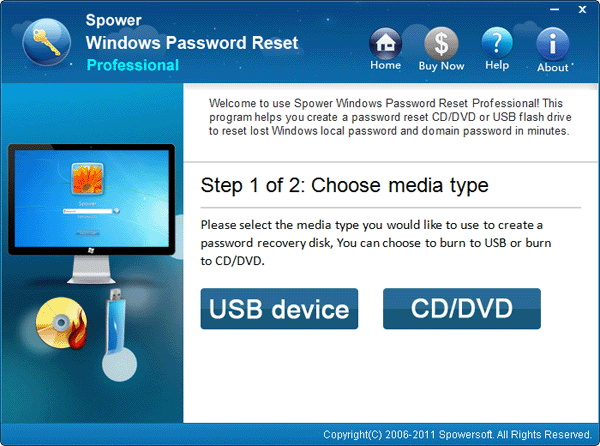 Step 3: Change the boot menu to boot from USB or CD/DVD which option you preferred. Now restart the system.
Step 4: Now it boots from your inserted disk and starts the Windows Password Reset, the main screen will show with four short steps;
Step1: Choose a Windows from the given list
Step2: Choose the user (Administrator, Guest or any other)
Step3: Select the action, click on the "Reset" button.
Step4: Now click on the "Reboot" button.
Note: The password will be set blank in Windows 10/8.1/8/7/Vista/XP/2016/2012/2008/2003/2000, and will be set to Spower@2011 in Windows Server 2000/2003/2008/2012/2016.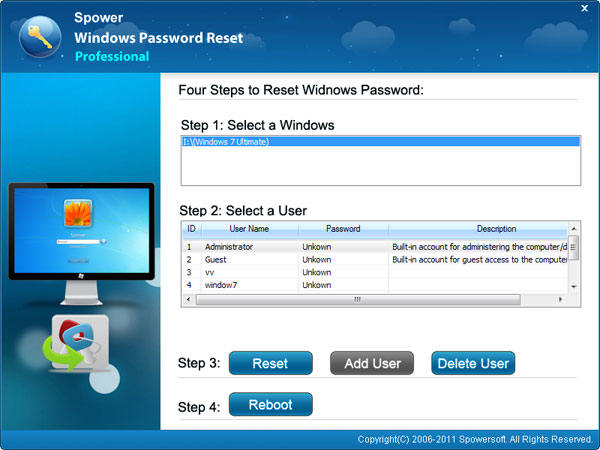 Step 5: When you click on the "Reboot" Button it will confirm that "Your computer will be restart. Are you sure?". Eject the disk and tap on the "Yes" button.
After the restart, your system will set without a password and you can set a new password or use it without a password.
Conclusion
So, to reformat sony vaio laptop to factory settings the Sony VAIO user can be formatting their system with the help of the assist button and VAIO Recovery Center. Also, you can use Windows Password Reset to reset Sony Vaio password if forgotton without losing data because it is the best in the market and covers all the versions of windows and windows servers. Further, it's compatibility, it's efficiency, speed, and cost are comparable with other windows reset password is best.
Free Download
Buy Now(Pro)