Are you a proud owner of Gateway Laptop? Finding a solution on how to factory reset gateway laptop if it is frequently crashing. When a system is unable to boot into Windows, it's time for a factory reset.
It is suggested to try a System Restore to make your Gateway laptop roll back to its proper functioning. Doing this will save your data. If this doesn't work, there are different methods to perform a factory reset Gateway laptop without password.
Let's go through Step by Step methods as a probable solution depending on the Gateway laptop's operating system. The below method is applicable for Windows operating system 7/8/10 altogether. The process remains the same; what differs is the screenshot and various options to choose from. Just follow the process to factory reset the gateway laptop.
Method 1. Restore Gateway Laptop to Factory Settings without CD
This guide will help on how to factory reset gateway laptop Windows 10.
Suppose you want to get back to its best and to reset it. It is pretty much similar to what you would do for a smartphone or tablet. This action completely restores the operating system to factory settings, making it look new.
To restore your gateway laptop without CD-ROM, follow simple steps to reset it completely. It is essential to store the data backup before the process commences.
Step 1. Pres "START" button on your Gateway Laptop, when the system is about to start pressing "SHIFT" key on your keyboard.
Step 2. Now, you will see a screen that gives an option to Troubleshoot. As per the below blue screen, it has an option to "Troubleshoot." Select this alternative and let the process begins.
Step 3. Click on "GET STARTED" control below the heading "RESET THIS PC." Once you click on "Reset," a following pop-up window comes up.
Step 4. Once you see the below screenshot follow the instruction as described.
After the above window, it shows 2 options as per the screenshot below.
Explanation to Step 4
Choose the 1st option, "Remove my Files," if you want to factory reset your gateway laptop quickly.
Choose the 2nd Option, "Remove Files and Clean the Drive," which is a bit slower but a secure option recommended by experts.
With the option selected from the above, let the process complete. It is important to note that you will need to set up an account to start using the gateway laptop. If you already have an account on Windows, use it to retrieve themes, different shortcuts, and other settings that will be synchronized to your Gateway laptop. Else, you can even create another profile.
By following the above steps, you have got a better idea of how to factory reset Windows 10 without a password, as well as Windows 8/8.1 in Gateway laptop.
Method 2. Restore Gateway Laptop to Factory Settings with System Recovery
If you are a technical nerd and looking for how to restore gateway laptop to factory settings without password, then an alternative way is through system recovery. A bit of technical knowledge is required to make this solution work in your favor. A Gateway laptop has an inbuilt recovery system tool that will help you reset it to default settings; however if prior data backup is required to avoid losing it in your computer.
The following guide explains you Step-by-Step method on how to factory reset gateway laptop.
Before you start recovering gateway laptop to factory settings, certain Do's and Don'ts are described below.
TIP: You must remove CD, DVD, USB optical drives.
Now Let's Start the Process
Step 1. Restart your gateway laptop.
Step 2. When the BIOS screen appears as shown below, click "F8" key continuously until the Advance Option Menu screen display.
Step 3. As shown in the above, click on "Repair Your Computer" and hit "ENTER."
Step 4. Move to the Next Step, where it shows "System Recovery Options," which shows 2 options.
1. Choose a Language – By Default, it is English
2. Choose Keyboard Input Method – select the US which is recommended
Step 5. Click "NEXT," which takes you to a new screen. A new window will show that allows giving administration rights. Input a password and click on "OK" Button.
Step 6. Now, you will see a System Recovery window, as shown below.
Depending upon your choice, go with any one of the Options.
"Completely Restore System to Factory Defaults"
"Restore Operating System and Retain User Data"
Step 7. This is the last process where you need to sit, relax, and let the automated system do its work. Just give your confirmation and wait till the process of factory reset gets accomplished.
Final Step
The entire process of how to restore gateway laptop to factory settings without password ends here. You can now Restart your Gateway laptop and set up a new password.
Do you want to know how you can restore Gateway Laptop to Factory setting in Safe Mode?
Let's go through some quick Steps to factory reset gateway laptop without password using Safe Mode. This is also one way to restore it without getting into technicalities of multiple methods, as shown above. A safe mode will help you restore data and set a password, which any pro or novice can do.
Step 1. Start your Gateway Laptop; when the Logo appears, press "F8" key on your keyboard.
Step 2. When the new screen appears, it shows the "Restore Computer" option.
Step 3. Next, a "System Restore" window shows up where you just have to follow the options shown to restore Gateway laptop to its default situations.
Step 4. Now, you have to choose a restore point for a complete system restore.
Step 5. You need to select the various restore points from the available options. It will show a list of restore points along with time and date and a summary showing the reason behind the creation of restores point. Click "Next" once you choose the specific point.
Step 6 and LAST
A new wizard window shows up to confirm your restore point, which shows the Drive of your Gateway laptop. Choose the point and click "Finish." Wait for the process to complete, and your gateway laptop will reboot. It will take several minutes to complete. A message pops up when the window starts to inform when the system will successfully restore.
Tip: Reset Gateway Laptop Password If Forgot
Last but not least, if you want to make this work as quickly as possible, you can use Windows Password Reset Software. This magnificent tool assists you to reset Gateway laptop without password. It is user-friendly for a technical and non-tech savvy to regain Windows access without a password in minutes when the login credentials are forgotten.
Free Download
Buy Now(Pro)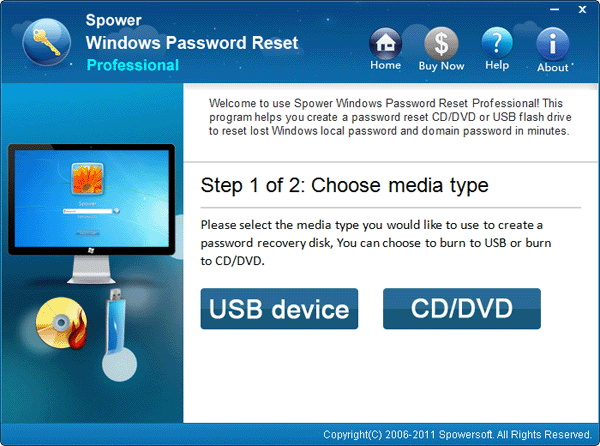 Conclusion and Takeaways
We hope that the above Step-by-Step process with an explanation and screenshot showing how to factory reset Gateway laptop without password proves fruitful up to your expectations. If it's only for the password you want to retrieve, use a Windows Password Reset application for a real quick solution.