ZIP files are the most unique tool to compress several files as a single one. This helps to share a huge number of files more conveniently. The most important thing about ZIP file is that it can be secured with passwords thus making the document completely safe.
However, we often tend to forget the password, right? Password removal from ZIP files depends on the password's complexity and there are some certain ways to perform the same. Let's get to know how to remove password from ZIP files.
Method 1: Remove ZIP password online (Not Recommended)
Have you forgot zip password? For this, you can take the help of online password decryption sites. Here is the details procedure for the same. However, you must be aware that this process is not recommended to unlock ZIP file without password due to data security. Check out the procedure to remove ZIP password online.
Step 1: Visit http://password-online.com and you will be presented with the simplest way to remove ZIP password online.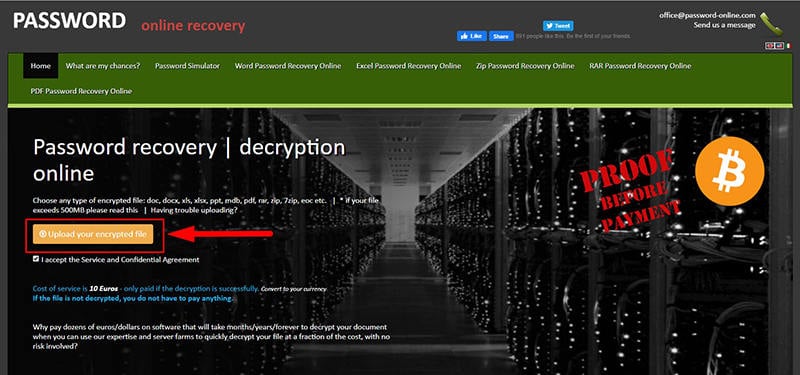 Step 2: You simply got to tick the confidential agreement form and click on "Upload your encrypted file" button and select the respective protected file. Apart from ZIP files, you can use this site to remove password from other files, such as doc, xls, pdf, doc, mdb, ppt and many more.
Step 3: After this, you will get redirected to a new page where you will be asked for your valid email address. The site will automatically notify you via email address when the decryption processes are completed.
And voila! You are done.
The website decrypts protected files with 100% guarantee. However, you should know that decryption probability is quite low for 7 zip files for the sake of the powerful AES algorithm. Therefore, this process is not recommended owing to data security.
Method 2: Remove password from ZIP files with Passper for ZIP
One of the most useful ways to remove zip password is with Passper for ZIP. It successfully recovers obliterated password from any archive. The best part of this application is, it supports all Windows OS versions ranging from Vista to Windows 10 OS. Following are some of the ways of how to remove zip password.
Free Trial
Buy Now
This application rages 4 attack modes to remove any password, which are:
Dictionary Attack: This mode tries to break the password with the built-in library of password combinations.
Combination Attack: This mode specifically combines symbols and letters as well as the numbers which we basically use in password formation.
Mask Attack: You can use this feature to set a mask specifically for the part of a password that you cannot remember.
Brute-Force Attack: This is the most brutal feature which combines all the possible options to break a password.
Passper for ZIP is the best application to remove password from ZIP files and it offers some cool features such as save recovery, High Recovery Rat, Fast Recovery and many more.
With Passper for ZIP, you can remove ZIP password in just 3-steps:
Step 1: Import the locked out ZIP file.
Step 2: Following that, select an attack mode according to your needs. It is recommended to start with the dictionary attack.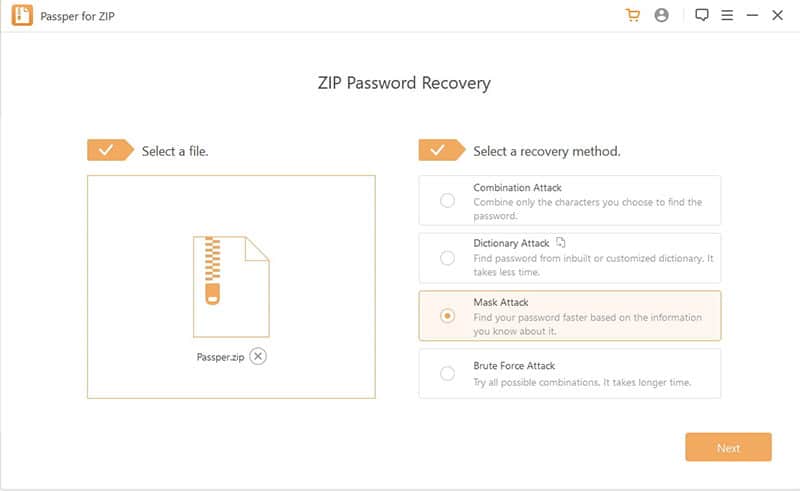 Step 3: Start the recovery mode. Then the removal of zip file password is done.
Method 3: Remove Password from ZIP File using CMD
It is one of the most efficient ways for Zip password recovery if you forget it. All the above mentioned password breaking solution requires some third-party applications to break the ZIP password and can be considered less secure. However, breaking the ZIP password with CMD is the most efficient way. The best thing about using CMD for the purpose is, it does not require any software installation and also is the most secure way to perform the task. However, this process requires a little knowledge of coding. Do you know how to remove password from Zip file? Check it out. To crack the password you need to have a CMD Line tool.
Here are the steps to follow to do the same:
Step 1: First of all, you need to create a file with Notepad in the folder containing the password protected ZIP file.
Step 2: Following that, you need to paste the following code in the notepad. You have to save the notepad as a rar-password.bat file.
Step 3: After this, you need to change the ZIP file as a .bat file with the help of Windows Explorer.
Step 4: In the next step, you are required to open the bat file. This bat file will successfully crack the protected ZIP file for you. The file name would be sample.rar and the path is: c:\Users\isunshare\Desktop.
That's all with the CMD.
Conclusion
As you can see, the password can be cracked anyway; however, a Zip file password cracking software may find it hard to deal with a relatively stronger password. Therefore it is highly recommended to use a very complex pattern while setting a password to make it secure enough. The processes of remove Zip password recommended above are some of the most effective ways and these are to be used only for educational purposes and in case you forgot ZIP password. However, as mentioned above, the first step is not recommended for your better security and the second and the third is the most useful and effective ways for the same.
Free Trial
Buy Now