ZIP files are a great and convenient source to transfer files over the internet because it compresses the large size files into small sizes as well as protect the data in different means. Sometimes these files contain some kind of sensitive data and it is risky to transfer them without any security measure. Well, there are always ways to deal with situations like this. ZIP utilities offer you to protect your significant files through a password.
There is a possibility that you forgot that self-created password and unable to open the locked ZIP files when they are needed on an urgent basis. You can not retrieve that password until you don't apply the right technique and that is what we are going to discuss in this post. I will share some of the best ways to open a password protected ZIP file. Read the below post to find how to open password protected ZIP file.
Method 1. How to Open Password Protected ZIP File Online(Not Recommended)
How to open password protected zip file online and Is it safe to unzip the ZIP file online are two of the most searched queries on the Internet. Well, we have the answer to these questions. First off, keep in mind that Online sources are not always helpful even sometimes it brings horrible results by sharing personal data on Online tools. I am not saying that all of the Online tools do the same. I am just figuring out a result looking at various mishappens.
If you are quite sure that the locked ZIP file doesn't keep secret information or data, Online tools might be the best and easiest way to open the password protected ZIP files.
It makes sense that you only have to upload a password protected ZIP file and the Online tool will unlock it within minutes without any investigation. Because it is so hectic to download an external ZIP unlocker tool and then follow the unlocking steps. On the other hand, online tools allow you to open a locked ZIP file by just uploading it to their online server.
Password online recovery is a good tool to unlock ZIP files online. Simply search the tool on the web browser and upload the locked ZIP file. Mark the "I accept the Service and Confidential Information" checkbox. The decryption services charges are 10 Euros but they are only charged if the decryption goes well and the file is successfully unlocked.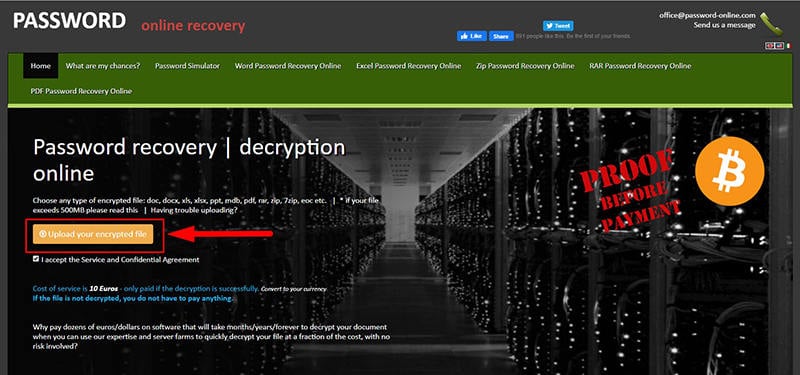 Method 2. How to Open Password Protected ZIP File with Passper for ZIP
Passper For ZIP would be the best choice if you are looking for a safe tool to open password protected ZIP files. Passper for ZIP is an excellent and the most trusted ZIP file unlocking tool that comes up with thousands of positive feedbacks. The software performs the unlocking operation at amazingly fast speed.
Free Trial
Buy Now
Passper for ZIP is fully capable to deal with all these situations:
Can't open ZIP files
Reset ZIP password
Passper for ZIP comes up with four astonishing unlocking techniques which are:
Dictionary Attack
Combination Attack
Mask Attack
Brute-Force Attack
Features:
It runs on all Windows versions including Windows 7/8/10/XP/Vista.
Unlock the password of all ZIP utilities including ZIP/WinZIP/7ZIP.
It is considered as the Fastest ZIP file unlocking tool.
The four recovery techniques work combine to give a recovery rate of up to 95%.
The software is very light weighted and easy to install.
Keeps the information inside the ZIP files 100% secure and safe.
It requires only 3 steps to open the password protected ZIP file.
How it works:
You can download and install the the Passper on your operating system and follow the on-screen instructions to successfully install the software.
Launch the Passper For ZIP and do step 1 which is to import the locked ZIP file.
Then go towards step 2 and choose a recovery method. It totally depends on the ZIP file that which recovery attack best suits it.
How those four recovery methods work:
1. Combination Attack:
The combination attack method allows you to set out different combinations of symbols, letters, and characters to find out the password.
2. Dictionary Attack method:
The dictionary attack method simply searches all available words in the dictionary. However, the scope of this method is limited because it only looks for frequently used password lists, movie or celebrity names, commonly used names, nicknames, and other words that the dictionary contains.
3. Mask Attack:
The Mask Attack would be useful when you remember some part of the password. They could be symbols, letters, or characters. The method check for all possible combinations that relate to those details.
4. Brute-Force Attack
The brute-force attack is considered one of the most powerful attacks to recover the locked ZIP file password. The method comprehensively checks for all the possible combinations including each letter, characters, number, etc. It takes a little longer to retrieve the password rather than other attacking techniques due to its complex nature and it checks the password combinations in depth.
Click on the "Recover" option to start the unlocking process.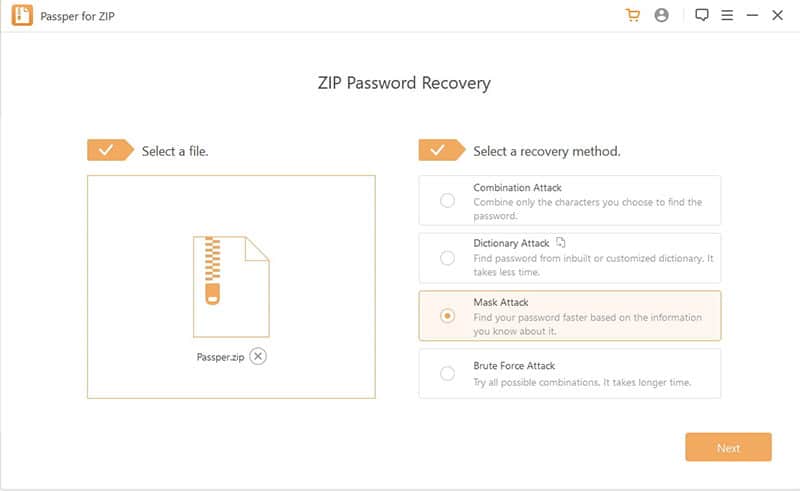 You can see and open the password protected ZIP files once the password retrieval process is done.
Method 3. How to Open Password Protected ZIP File with NSIS
Nullsoft Scriptable Install System which is normally named as NSIS is a Windows-based free installer and typically used to open password protected ZIP files. Unlike other ZIP password cracker tools, NSIS works differently. It converts the locked ZIP file into an "exe" format. After converting it into the "exe" file you will need to install that file on your operating system. The method is a bit complicated yet effective way to open password protected ZIP files.
Let's see how to open Zip file without password with NSIS:
Visit this link to download the NSIS.
Install the software on your Windows. Launch the program and hit the "Installer based on ZIP file" option.
On the next screen, click on the Open feature to upload the specific locked ZIP file. Allocated the exact path where the ZIP file is actually located. Press the Generate button after that.
An "exe" file will be generated as soon as you click on the password protected ZIP file. Once the "exe" file is generated, you will see an Install button on the screen. Click that button to install the file and you will be able to access that locked file once the installation is done.
Conclusion:
Well, after reading this post, you have got the answer to the question "how to open ZIP file without password". We hope that this guide truly helped you to get rid of the locked ZIP file and came up with wonderful information on how to open encrypted ZIP file. Instead of trying other doubted methods, I will highly suggest you use Passper For ZIP in order to open the locked ZIP file. Well, NSIS will be a good choice if you are looking for freeware.
Free Trial
Buy Now