To access encrypted RAR archives, you are required to enter the password used to protect them. If you do not have this password, you have two options – give up and delete the file or recover the password. Do you want to know how to decrypt RAR file? Then read this post to the end, as we will show you ways to carry out this operation effectively and safely.
Method 1. Decrypt RAR Password Online(Not Recommended)
Several websites provide RAR password decryption services. I am not referring to websites where you download the password decryption tools; with these platforms, you can decrypt RAR password online. One such website is www.lostmypass.com. To decrypt RAR password online, you do not need to download any software; it's all done on the website. LostMyPass will be our case study; you will learn how to decrypt an encrypted RAR file online below.
Step 1: Open lostmypass.com on your internet browser.
Step 2: Find the field where you upload the RAR archive, browse for it on your computer, and import the RAR file to upload it to their servers.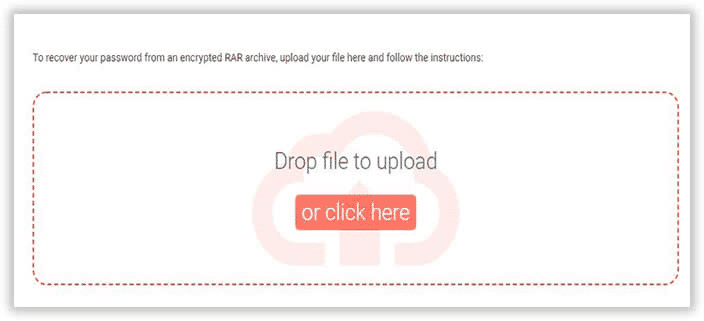 Step 3: Once you successfully upload the RAR file, it will begin to decrypt RAR password online. It may take some time, but you will see a "Download" button after a while. Click "Download" to save the unlocked file.
If your RAR file is not of sensitive nature, then feel free to decrypt RAR password online, but to maintain privacy, we do not recommend this method. The reason being that these websites save the data on their servers, and unlocking it means that whoever is at the other end of things can access your documents.
For the best results, I recommend that you opt for professional RAR password recovery software. The next methods will introduce two powerful password unlock tools and how to decrypt WinRAR files using them.
Method 2. Decrypt RAR Password with cRARk
The first tool is called cRARK. cRARK is a free tool for unlocking encrypted RAR archives with a password of fewer than 29 characters. If you used other software before giving cRARK a test, the first thing you will notice with cRARK is its incredible speed. It uses a brute-force attack to decrypt WinRAR password easily. However, it's not all roses. cRARK does not have a graphical user interface, and all the operation is carried out on command line/terminal, so it looks like cRARK was designed for geeks. But don't be scared because it's pretty easy to use when you get the hang of it. Below is how to decrypt WinRAR files using cRARK.
Step 1: Open the crack website and download the right cRARK version for your operating system.
Step 2: Run Command Prompt by pressing the Windows key and searching for "CMD" and run some commands.
Step 3: In a command that runs without error, you only need to wait for your RAR archive password to be cracked. When that happens, you will be notified.
cRARK may be one of the fastest tools you can find to decrypt WinRAR password, but the lack of a graphical user interface is a huge drawback. Also, cRARK has only the brute-force attack and limits you to cracking passwords with 28 characters. The third method below is perhaps more powerful than cRARK, has a beautiful interface, and features more password attack modes.
Method 3. Decrypt RAR Password with PassFab for RAR
For a complete solution to decrypt WinRAR files, you have PassFab for RAR. With PassFab for RAR, you are given 3 password attack modes to use based on what you know (or do not know) about the password and your specific needs. PassFab for RAR is powered by robust algorithms that make its operation more reliable than the other methods on this list. Speaking of this list, PassFab for RAR does not save your files to their server like our first method, and your data is guaranteed to be untouched following the password cracking operation. Although this tool is quite easy to use, we will still show you detailed steps on how to decrypt RAR file with it, but first, let us highlight some of the most important features of this program.
Free Trial
Key Features
It offers a very high password recovery rate at a whopping 98%. This almost guarantees you success in your password recovery.
Unlike the other tools on this list, if you cannot complete the password recovery for any reason, you can count on PassFab for RAR to save the progress and resume successfully at a later time without errors.
PassFab for RAR is a 100% secure tool, as it does not save your data or share it with a third-party.
It features 4 different ways to unlock your RAR file. Selecting an appropriate mode greatly increases efficiency and reduces the recovery time.
Best of all, you are welcome to try out the program for free before making the purchase. It also offers a 30-day money-back guarantee, so you have nothing to gamble about.
How to use PassFab for RAR
Step 1: Download, install and launch the program on your computer.
Step 2: On launching PassFab for RAR, you are welcomed with a screen showing the four password attack modes. First, import the RAR file you want to decrypt.
Step 3: After importing the archive, select one of the options and then click "Start." Below is an overview of the various password attack modes:
Dictionary attack: PassFab for RAR sports a dictionary from which it will attempt all the words there. You can modify this dictionary to suit your specific scenario. Use this attack if the password may be a dictionary word.
Mask attack: Select the mask attack if you remember some of the characters of the password.
Brute Force attack: The Brute Force attack lets you set properties of the forgotten password as a guide for password cracking. Some of the properties could include all capital letters or all small letters, and so on.
Step 4: On clicking "Start," PassFab for RAR starts to decrypt the RAR file. And in no time, you will see your recovered password displayed on the screen. Finally, you can either write out this password or click "Copy" to save it to your clipboard.
When you open the RAR archive following this operation, use the recovered password to access the file.
Conclusion
Most people have at one point asked how to decrypt WinRAR files, and searching online gives you loads of results. You can decrypt RAR password online, using geeky tools or professional, user-friendly software. In this article, we have presented to you the best ways to do each. After reading this post, you see why the last option is recommended. If you need to decrypt, you are now equipped with all the information you need for success. Good luck recovering your RAR archive password.
Free Trial